Benefits of ICT Keypads: Part 8
Extra features
Did you know that ICT keypads are capable of so much more than arming and disarming areas? In this blog series, we'll explore how your clients can use their keypads as the central point to control doors, easily defer arming, manage users, and even check the status of areas and events. The wide range of capabilities a keypad provides can make both yours and your customers lives so much easier, as managing access and control becomes as easy as 2 key presses.
This is part 8 and the final article of our keypad series. If you've missed the previous articles, you can check them out here:
Jordan's International Recliner Company
Let's think back to our scenario with Jordan's international custom recliner store. Jordan's called you looking for a way to secure her site in Auckland, New Zealand, which is made up of a showroom, an office, a staff area, a production facility, and a warehouse. She also needs to manage her stores in Wellington, Christchurch and across Australia. Jordan is looking for more details about how the keypad can help her maximize efficiencies for her business.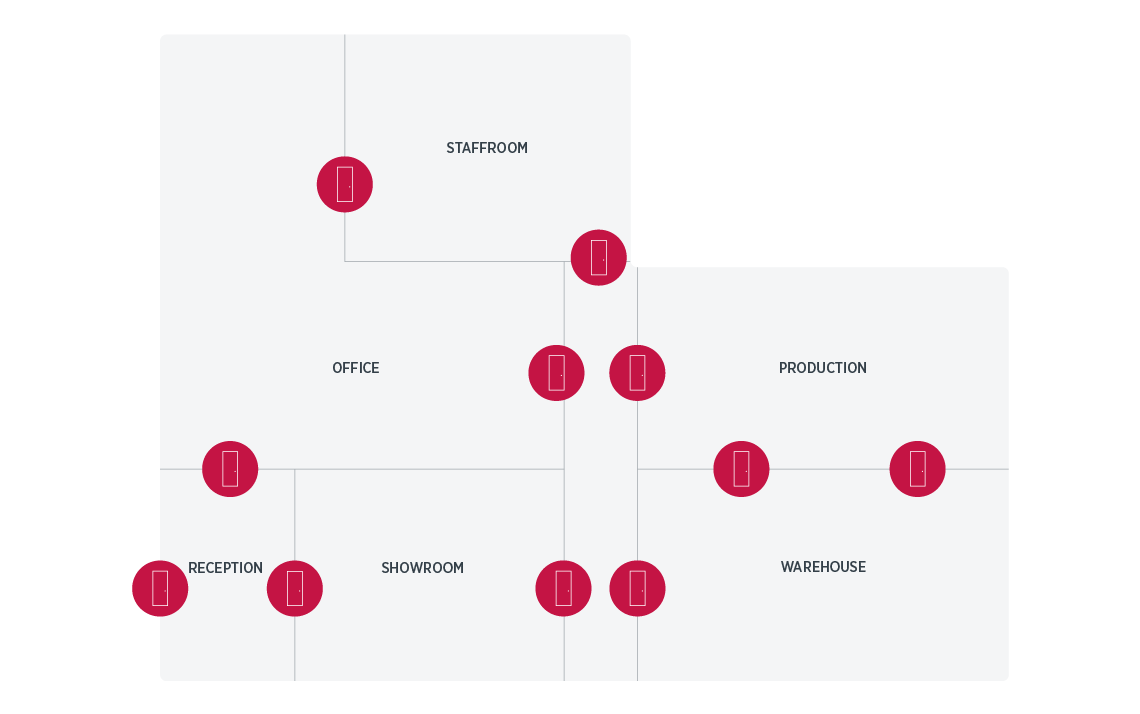 The Benefits of Protege Keypads
In the previous articles, we've explored a range of arming options, learnt how keypads can be used to increase energy efficiency, and discovered how they can keep staff safe. Let's check out some other ways that Jordan, her staff, and her business could benefit from an ICT keypad:
Surface Mount Options
Jordan's NZ store is in a classic concrete building. While timeless, this can make installing and wiring a keypad challenging. ICT's surface mount back box accessory is ideal in this situation as it allows cabling/conduit to be fitted along the wall surface, eliminating the need for invasive or complex work to cut into the wall. Available in black or white, Jordan can select the back box that complements her keypad and her décor.
Audible Feedback
The keypad produces a short audible tone when a key is pressed. Other tones are generated depending on the operation.
Jordan will hear a confirmation tone of four sequential beeps when an operation has successfully completed. The keypad will generate a rejection tone - a single beep for 3 seconds - if it times out or an operation is unsuccessful, such as from entering an invalid PIN.
If Jordan finds these tones disruptive, you can enable the option that allows her to silence the keypad by pressing and holding [CLEAR] for 3 seconds.
Time and Attendance
Keypads can be configured to display time and attendance details, providing visual feedback and confirmation to a user when signing in or out at an ICT reader. When a user badges at the associated reader, their name and the recorded time and date are displayed on the keypad connected to that door.
Jordan can use time and attendance reports in Protege GX to track and monitor staff movements, assisting with payroll and highlighting any timekeeping concerns.
Logging Out
Jordan has multiple options for ensuring she and her staff don't forget to logout at a keypad.
It can be set to automatically logout when someone arms or disarms an area. Alternatively, you can also define the period of inactivity in seconds before a user is logged out automatically. Jordan has this set for 20 seconds to protect her keypads from being accessed by unauthorized users.
To learn more about these features and how they can be programmed so your clients get the most out of their keypads, check out the following documentation:
Conclusion
In the eighth and final part of this series, we've continued the journey in showing clients, like Jordan, the benefits of ICT's keypad range and how they make building security stress-free and seamless. To discover even more about the features available, check out the previous articles or get in touch with our sales team.
To find out more about our keypad range, check out the following links: