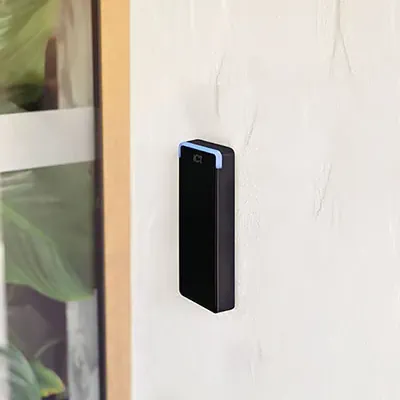 Proximity RFID Readers,
Cards & Fobs
Smart. Stylish. Secure.
Smart
Whether you prefer traditional access cards, fobs, and wristbands, or the added convenience of unlocking doors from your mobile device, support for a range of credential types and smart technologies means you can choose the model to match your business needs.
Stylish
Sleek and stylish, and with a range of optional features, there's a tSec RFID card reader for everyone. Available in three sizes, with multiple card capabilities, an optional keypad, and in a choice of black or white, you can select the model to fit your needs and your decor.
Secure
Avoid the security flaws of outdated technology and choose between intelligent RS-485 connection for fast, flexible, secure communication with AES-256 encryption, or opt for OSDP for compatibility with all standard access control systems.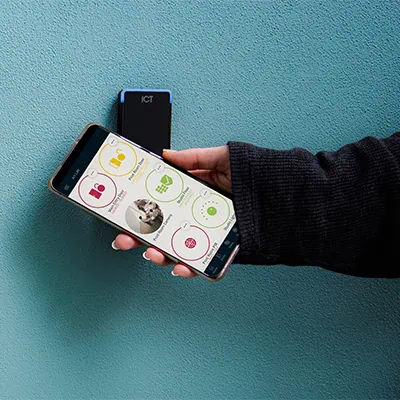 Mobile Ready
Equipped with Bluetooth® wireless technology and NFC capability, our tSec readers work with the Protege Mobile App and ICT Mobile Credentials, enabling you to unlock doors using a smartphone.
Latest Technology
Available with either 125kHz proximity or 13.56MHz smart card capability (for DESFire credentials), or as a multi technology reader that combines both capabilities in a single unit, the tSec range delivers maximum compatibility while providing a path forward to the latest technology.
For communication, RS-485 connections are fast, flexible, and secure. Or, make use of the Open Supervised Device Protocol (OSDP) or Wiegand for compatibility across all standard access control systems. RS-485 is easier and more cost effective to wire, provides the added benefits of AES-256 encryption, and allows direct integration with Protege systems enabling you to make changes on the fly once readers are installed.
Status at a glance
Configurable LEDs provide clear visual feedback. As well as simply showing whether a door is locked or unlocked, LEDs can be programmed to provide a visual status, such as a solid purple LED to indicate an area is disarmed, or a flashing orange and red LED to indicate the area is in alarm.
Durable and robust
The fully encapsulated design and IP65 environmental rating provides a high degree of protection from the elements.
An optional vandal resistant cover provides even greater durability and protection against malicious damage, while acting as an anti-ligature measure for an additional level of safety.
Optional Reader Accessories
Designed to withstand some of the harshest settings, the vandal resistant covers are ideal for locations where a card reader may be exposed to damage, including corridors, parking buildings, correctional facilities, and other public places. The card holder (compatible with the tSec Extra) enables you to improve health and safety, provide machine management, and maximize energy efficiency by requiring an authorized user to be present at all times.