ICT and the Gaming Industry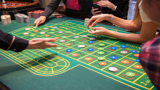 The Challenge
Electronic security is an essential component of gaming industry operations, and in many areas it is a prerequisite for a gaming license. There are stringent regulations that must be followed to maintain integrity and ensure all gaming tables, slot machines, vaults, count rooms, and surveillance rooms, are closely monitored.
The demands on casino security managers are considerable with pressure to ensure that the casino's assets, staff and patrons are safe and secure in a fast moving, and often chaotic environment. Theft and equipment tampering are a common problem that must be eliminated. Key areas such as gaming tables need to be kept under surveillance, and access to restricted areas such as the cash cage or counting room need to be carefully controlled. Other casino facilities including food and beverage areas, hotel and convention rooms, and retail operations, must also be protected.
Key features an ICT solution provides include:
Anti-Passback
Prevents users from passing their credential back for another user to borrow and stops users entering an area by following or tailgating another user.
Duress Alarm
Allows users to arm or disarm an area as normal, but sends a silent alarm to the offsite monitoring station.
Automatic Re-arm
Automatically arm an area once it has been disarmed for a period. Limit the duration that a user can remain in an area.
Disarm Delay
Use Disarm Delay to deter armed robberies. Once a user requests an area disarm a delay timer is started. Once expired, the area disarms.
Door Lockdown
Lockdown a single door or the whole site to restrict entry, exit or all access during an emergency situation.
Dual Authentication
Requires two authorized users to supply credentials to gain access to a door.
Integrated Access Control
Built in full featured access control provides user convenience and intelligent control.
Door Alarm Monitoring
Monitor for forced and open too long doors. Send signals offsite via IP Monitoring or ContactID.