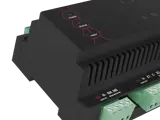 Protege DIN Rail
To give your integrated electronic security systems the competitive edge, you could stick to what you know: fragile circuit componentry that hasn't changed for years. Or you could choose an altogether more powerful solution. Our DIN Rail compatible units are compact, robust and elegant. In this day and age, why would you work with anything else?
Why DIN Rail?
Designed to minimize effort at installation and maximize space in your cabinet/enclosure, the versatile, modular design also means you can easily add to the system as needed. With an industry standard DIN Rail mount enclosure, the DIN Rail range not only looks great, it integrates seamlessly into large scale installations alongside high end HVAC and electrical switchboard components.
Built tough
The enclosed design provides more durability and protects internal circuitry from physical damage or electrostatic discharge, while the compact size translates to a higher installation density and saves valuable control room real estate to give you more control in less space.
Intelligent design
Front panel LED indicators show the status of devices at a glance, making servicing and diagnosis quick and simple, while removable plug-in terminals allow for easy servicing and rapid deployment.
Quality you can trust
All of our products are manufactured at our state of the art facility in New Zealand and are fully tested to ensure superior product quality. DIN Rail products also come with an extended 5-year warranty when installed by an IDN member and are compliant with the major international safety and emission standards. 
Easy to install
Watch our handy how-to video to see just how easy it is to mount and remove our DIN Rail modules. Mounting is as simple as clicking the module into place, and all you'll need to remove it is a flat-blade screwdriver (which we even include with your Protege WX or GX controller)!
Controllers
Available in one or two door models, the controller is the central processing unit and the heart of your Protege system. It communicates with any connected modules, stores all configuration and transaction information, processes all system communication, and reports alarms and system activity to a monitoring station or remote computer. 
Expansion Modules
A range of expansion modules allow you to easily extend the system and provide additional functionality. Need more doors? Add a Reader Expander. Need more motion sensors? Add an Input Expander. The compact two-tier design of the half size modules gives you all the same functionality from one compact unit - meaning you get the same number of doors, inputs or outputs in half the space. A truly space-saving option when control room real estate is at a premium.
Power Supplies
Our range of intelligent power supplies provide 12VDC power and are ideal for running security, access control, or automation devices, along with large numbers of Protege network powered modules in the same installation.
Explore more of the ICT Product Range