ICT and the Aviation Industry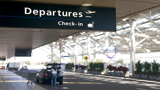 The Challenge
Airports are a hive of activity, with thousands of passengers, tons of cargo, and vehicles and planes coming in and going out each day. With everyday threats ranging from vandalism and theft, to smuggling, terrorism and hijacking, there is no room to compromise on security.
Safety of staff and passengers is paramount. Access must be tightly controlled to ensure only authorized personnel are granted access to restricted areas. Large open areas both inside the terminal, and the outer perimeters must be closely monitored, and unattended bags must be tracked.
Key features an ICT solution provides include:
Anti-Passback
Prevents users from passing their credential back for another user to borrow and stops users entering an area by following or tailgating another user.
Loiter Areas
Allows users to transit through an area but prevents them from remaining too long or loitering.
Door Alarm Monitoring
Monitor for forced and open too long doors. Send signals offsite via IP Monitoring or ContactID.
Dual Authentication
Requires two authorized users to supply credentials to gain access to a door.
Integrated Access Control
Built in full featured access control provides user convenience and intelligent control.
Door Lockdown
Lockdown a single door or the whole site to restrict entry, exit or all access during an emergency situation.
Automatic Re-arm
Automatically arm an area once it has been disarmed for a period. Limit the duration that a user can remain in an area.
Door Interlocking
Allows only a single door in a defined group to be open at one time. Ideal for preventing dangerous things getting in or out of a hazardous area.