ICT and the Education Sector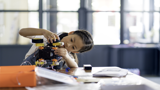 The Challenge
Educational institutions create a unique challenge when it comes to implementing a security solution. Their open design provides a welcoming environment that fosters learning and offers a community atmosphere, yet at the same time they need to provide a safe learning environment and prevent unauthorized access to restricted buildings.
Most schools and universities are faced with constrained budgets and limited resources, yet are expected to protect students, staff, and valuable equipment and resources. Equipment and resources need to be tracked, managed, and safeguarded from loss or theft. With campuses spread across multiple buildings - often across multiple sites - grounds and facilities need to be openly accessible, with designated buildings and parking areas restricted to staff and authorized students.
Key features an ICT solution provides include:
Door Lockdown
Lockdown a single door or the whole site to restrict entry, exit or all access during an emergency situation.
Advanced Scheduling
Intelligent time based control of access and energy management, automatically adjusts for daylight savings and holidays.
Multiple Area Support
Multiple areas allow a building or site to be partitioned. Area Groups give users the ability to control their own areas and arm all with one keypress.
IP Monitoring
Integrated IP monitoring on-board all Protege system controllers. Fast, accurate, cost effective and always online.
Emergency Egress
Unlock a single door, an egress path, or the entire site to facilitate a smooth and trouble free emergency evacuation.
Scheduled Arming
Automatically arm or disarm areas based on time of day. Use Deferred Arming to allow hardworking employees to stay late.
Automation and Control
Integrate with 3rd party automation and lighting control systems to create a responsive environment.
Integrated Intruder Detection
Built in full featured intrusion detection provides user convenience and intelligent control.
Available Resources
If you'd like more background on education solutions, these resources will get you up to speed. Selecting the solution for your campus is critical to protect your investment today and into the future.