Securing schools after hours with Calendar Actions
Schools – they're pillars of the community. Not only do K-12 schools provide essential education during school hours, they host crucial services after hours, like after-school programs and PTA meetings, while also acting as a community gathering place – for charity drives, weddings, and much more.
It's a fine line to walk, balancing safety and security while also being an open and inviting space for students and the community. This balancing act can be difficult to manage, which is why we'd recommend the Protege GX built-in feature, Calendar Actions.
What are Calendar Actions?
Calendar Actions allow you to override pre-programmed schedules for specific durations, creating custom scheduling options. They can be set up to recur as needed or act as one-off changes.
For example, Erehwon Academy has a pre-programmed daily schedule to unlock all interior and exterior doors at 7am and lock again at 4:30pm. However, at 8pm Friday they have a community fundraiser in the gymnasium. People need to get through the front door and into the gym, while the rest of the school stays secure.
With Calendar Actions, it's no problem. School administrators can set the Calendar Actions to override the usual schedule, so that the front doors and gymnasium entrance unlock and the lights and HVAC in these areas turn on. The rest of the school stays locked with the lights and HVAC off, creating a secure and energy efficient solution.
High-security solutions
Erehwon Academy has an ICT tSec reader with keypad on the exterior and high-security doors throughout the school. To keep events as secure as possible, the academy can disarm the building while keeping exterior doors locked by giving one-time access PINs to each attendee. For recurring events, like a monthly PTA meeting, each member can have their own individual PIN - a seamless and secure solution.
They're built-in to the Protege GX Standard License at no extra charge.*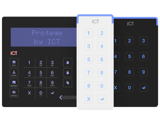 Key benefits
Calendar Actions can help make your school an open and welcoming place, while still ensuring high security standards.
Restricted access in an open environment
Unlock the areas you need, while keeping the rest of the building locked down. Use visitor PINs with ICT keypads or readers for a high-security solution.
Sustainable solutions
Set lights and HVAC to turn on only in the areas you need, creating an energy-efficient environment.
Plan ahead with ease
Pre-program events so there's no need for anybody to be there just to unlock the doors.
Checklist
When making a custom schedule using Calendar Actions, there are a few key things to consider:
If people are arriving outside of normal hours, where will they enter and exit the building? What doors and facilities do they need to access once inside? Can doors remain unlocked for the whole duration, or should they be locked to prevent entry after the event starts? 

If the building will be empty at an unusual time, what doors and areas would normally be unsecured but need to be secured this time? 

Are lights and HVAC required during this period, or should they be turned off to save power? 

Is it a one-off event, or will it recur on a regular basis?
Additional resources
Whether you're in early childhood education, K-12, or post-secondary, ICT has the solutions you need. Check out these other great resources for how you can create a full education solution:
*Calendar Actions are not available with the Protege GX Starter License