We're a high performing organization, but that doesn't mean we don't like to have fun. With staff from all walks of life, and from more than 15 different countries (and growing), we celebrate diversity and the right to recognize each other.
We look for team players, proactive candidates with a strong sense of responsibility, and those with a high level of initiative and an amazing drive to improve. We think differently and we stand out from the crowd but for all the right reasons. We innovate, move fast, and constantly challenge ourselves to come up with better ways of doing things. That's why ICT is such an amazing place to work.
All that hard work does have its perks, with ICT employees enjoying a wide range of benefits.
Always Learning
We innovate, challenge ourselves and are never complacent, not just because we want to create amazing products but because we value the pursuit of learning. We also believe that our team members should always have opportunities to develop their skills. We celebrate individual passions and hobbies, and are inspired to see our staff excel. 
In this Together
Our people make ICT special. Across the company, we encourage open communication and cross team collaboration, our active social club and social sports teams meet and compete on a regular basis. Our office is a hive of activity with a new face to meet on regular basis.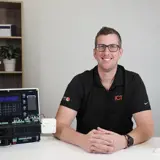 Meet Shaun Gardner, a jack of all trades in quite the literal sense. Beginning his ICT career as part of the manufacturing team, Shaun worked hard alongside a team of dedicated professionals to assemble and distribute the Protege hardware. Discovering a natural talent and a keen interest in technology, Shaun joined the fast-paced R&D team, working to innovate the next iteration of the Protege WX and GX eco-systems. After conquering development, Shaun took is wealth of knowledge to the technical support team, adopting a customer facing role as support technician to problem solve and guide those on the other end of the phone. Never shy of a challenge, Shaun put his hand up again for advancement and is now leading our New Zealand sales team as regional sales manager. 
Whatever your passion, no path is the same, at ICT we're here to help you develop and prosper.