Status Pages: Business insights at your fingertips
As the saying goes, knowledge is power. But in this digital age with so much information coming in, how do you separate the valuable insights you need from the white noise of everyday data.
Status pages help you monitor the crucial touch points of your business while filtering through the noise. They provide an intuitive and efficient overview of your security, your buildings, and your people. Status pages are a powerful tool for reporting, managing sites, and consolidating key pieces of information. Each page is fully customizable to include the information you actually need.
Whether you're an end-user of Protege GX or a property or security manager looking to get insights into how build resiliency into your organization's security, knowing what's happening and where it's happening across your locations can help you achieve that.
With up to 16 tiles able to display information like event logs, device status, and camera feeds, getting the information you need quickly has never been easier.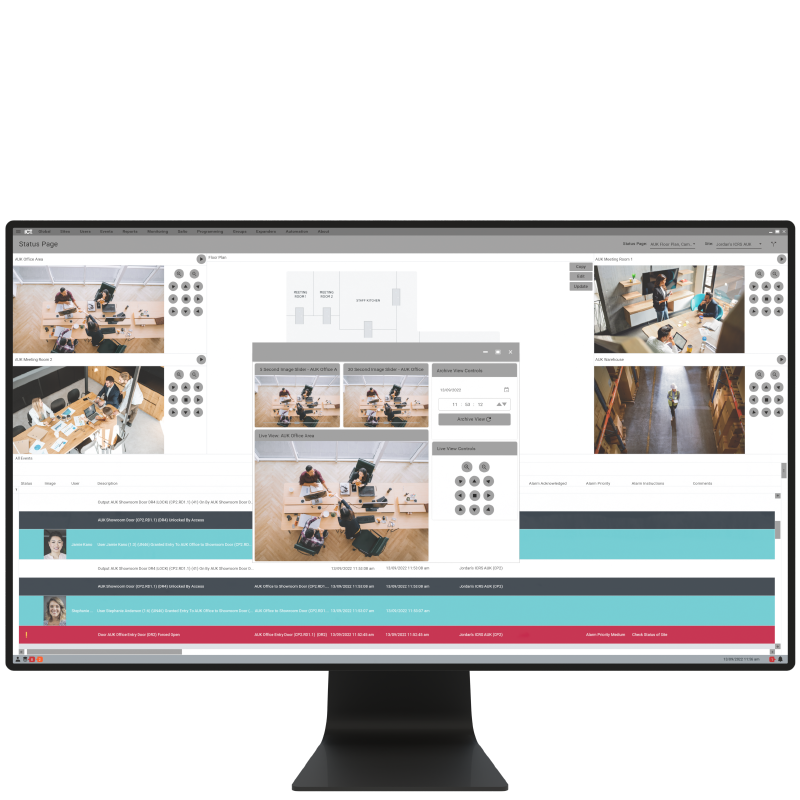 The functionality and benefits
When it comes to Protege GX status pages, there's quite a lot of functionality available to take advantage of. But what do they mean and how do they benefit you?
Let's take a look at this with the help of Dave, the security manager for Jordan's international custom recliner store, who we first met in the Keypads series. Jordan has a store, manufacturing facilities, and a warehouse in Auckland, New Zealand, as well as storefronts in Wellington, Christchurch, across Australia, with a recent expansion into the USA.
Events
Whenever anything at any connected locations happens - such as someone badges at a door, an area is armed or disarmed, or a door is opened - an event is created. A singular action – such as pressing the Request to Exit (REX) button on a card reader - triggers 9-15 separate events in the status page. For one premises with 20 employees, this can result in thousands, even tens of thousands of events per day.  
For the most part, you don't need to see every single event that happens, which is why you have the option to create a tile for All Events or filter them based on certain types of events.  
Dave can filter these down to only show the events he really needs at each location, like door or alarm related events. You can even have them color coded, so you don't miss the big events. Dave has all alarm-based events made red, so they really pop out. He can also set up a trigger for popup alarms for events such as forced doors linked to a camera feed. 
Photo ID
Dave has also enabled user photos so that when Jordan and her employees use their mobile credentials at card reader or enter their PIN into a keypad, their photo ID pops up. With the live camera feed also enabled on his status page, Dave can ensure that the person presenting the credential matches the photo.
Status list
Status lists allow you to get an overview of and control areas, doors, inputs, and outputs. Create a tile for each and Dave can unlock doors, arm areas, and see what inputs have triggered what outputs, all from one page. Status lists are fully customizable, enabling Dave to only see what he needs – all you have to do is toggle the filters on and off.
Device status
Keypads to system controllers to cameras to IP locks. Know whether a device is online and the battery status without leaving your desktop, allowing Dave to monitor the health of devices in Australia from his office in Auckland. If any of the devices were to go offline, he can get them checked by his security provider immediately. Instant awareness, even across the border.
Camera Footage
Embed a live camera feed right on your status pages, so that when you get an event notification in your Events tile, you can jump to the appropriate camera right away and see it happening in real time. Dave gets an event notification for an access denied result at the keypad outside Jordan's office and he can immediately switch to that camera and see who is attempting to gain access. Good news, it's Jordan – she just accidentally mistyped her PIN.
Muster reports 
Muster reports enable you to generate a list of where users are in the building using the entry and exit readers associated with a door. Instantly know where people are in an emergency, make auditing a breeze, and add an extra layer of accuracy to these reports by enabling with our built-in anti-passback functionality. 
Dave knows where people are in the building at any given time, in any of the storefronts. The camera feed and photo ID's also help confirm that people aren't using someone else's credentials and Jordan is health and safety compliant.
Floor plans
Embed a floor plan right into your Status Page. The floor plan not only reflects the layout of the building, but also the real time status of any areas and doors, for a quick, graphical overview of what's happening. Dave can even control the devices and areas right from the floor plan – just right click and arm an area. No need to go to a different page or hunt around finding the right device.
By having the floor plan and camera feed on the Status Page along with the Status Lists, Dave can get a full picture of areas and doors. The door being open appears on the status list, the floor plan lights up red to show it's unlocked, and Dave can see in the camera that the credential used matches who's using it. Robust oversight and control.
Setting Up a Status Page
Setting up Status Pages is simple! See how in our short solution video:
Conclusion
Status pages are a powerful tool for reporting, managing sites, and consolidating key pieces of information. They are fully customizable so you can set up your own page with exactly what you need to see. No unnecessary information clogging things up.