Benefits of ICT Keypads: Part 3
Using Automations 
Did you know that ICT keypads are capable of so much more than arming and disarming areas? In this blog series, we'll explore how your clients can use their keypads as the central point to control doors, easily defer arming, manage users, and even check the status of areas and events. The wide range of capabilities a keypad provides can make both yours and your customers lives so much easier, as managing access and control becomes as easy as 2 key presses.
This is part 3 of our keypad series, if you've missed part 2 you can check it out now or start from the beginning.
Jordan's International Recliner Company
Let's think back to our scenario with Jordan's international custom recliner store. Jordan's called you looking for a way to secure her site in Auckland, New Zealand, which is made up of a showroom, an office, a staff area, a production facility, and a warehouse. She also needs to manage her stores in Wellington, Christchurch and across Australia. Jordan is looking for more details about how the keypad can help her maximize efficiencies for her business.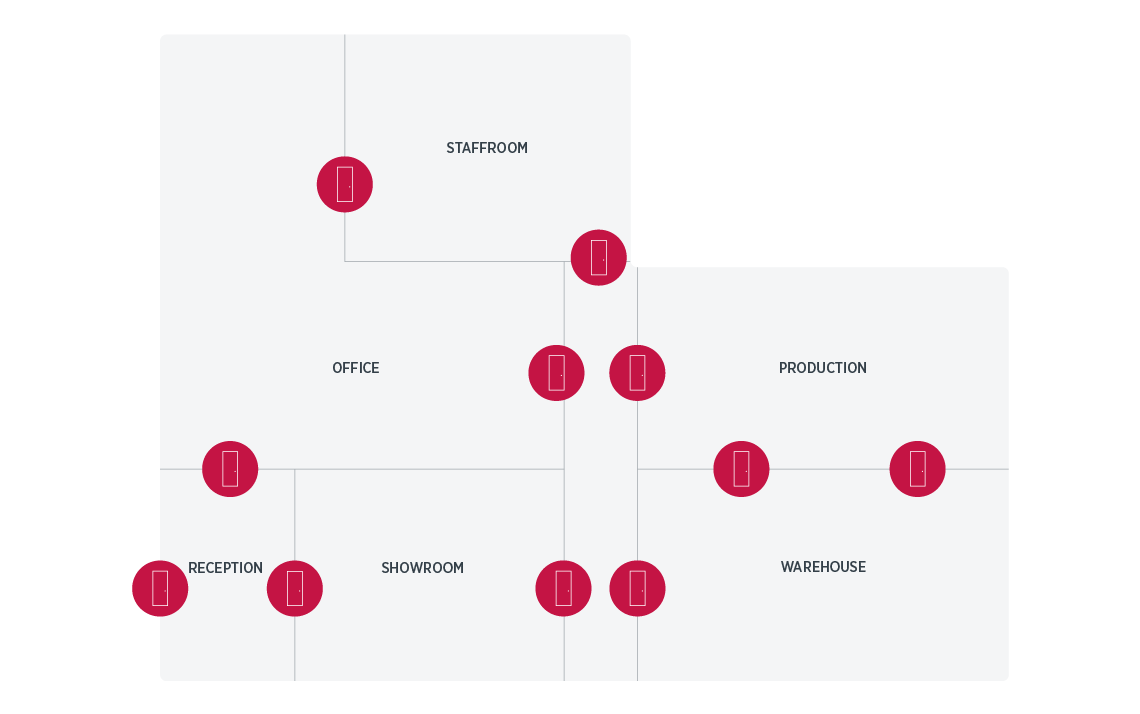 The Benefits of Protege Keypads
Previously we learnt about area group arming and door control, arming and disarming child areas, as well as defer, stay, and force arming options. Let's look at some other ways Jordan, her staff, and her business could benefit from an ICT keypad:
Access level outputs for energy management
Access level outputs can be used to activate a single output, or a group of outputs, when a user is granted access to a keypad. These are ideal to automate building control. In Jordan's case, these can be setup so that when she enters her PIN in the morning to disarm the building, the lights and HVAC turn on automatically.
Each access level can even be assigned different outputs to provide a different response. So, if Jordan arrives before the warehouse staff, it only turns on the lighting for her office and the staff area. While the warehouse lights turn on when a member of the warehouse team logs in.
This allows seamless integration of Jordan's entire building, while also promoting energy efficiency and more environmentally friendly practices. That's a win for Jordan and for the Earth!
Offline automations
Automations are used to control devices that operate regularly such as outdoor lighting, irrigation or HVAC systems. But did you know that these can also be controlled from the keypad without needing to login? Provided this feature has been configured, all Jordan needs to do is press the Menu and the 1 key, allowing her to easily override the system and turn on (or off) as needed.
Being able to control her entire building with the press of a couple keys makes Jordan's day-to-day life so much simpler and enables her to make environmentally friendly choices. Protecting the world around you through sustainable habits is easy with ICT's keypads.
To learn more about these features and how they can be programmed so your clients get the most out of their keypads, check out the following documentation:
To find out more about our keypad range, check out the following links:
Conclusion
In the third part of this ongoing series, we've continued the journey in showing clients, like Jordan, the benefits of ICT's keypad range and how they make building security stress-free and seamless. To discover even more about the features available, keep your eyes on your inbox for the next installation.