Benefits of ICT Keypads: Part 4
Managing Users 
Did you know that ICT keypads are capable of so much more than arming and disarming areas? In this blog series, we'll explore how your clients can use their keypads as the central point to control doors, easily defer arming, manage users, and even check the status of areas and events. The wide range of capabilities a keypad provides can make both yours and your customers lives so much easier, as managing access and control becomes as easy as 2 key presses.
This is part 4 of our keypad series, if you've missed the previous articles you can check out part 2, part 3, or start from the beginning.
Jordan's International Recliner Company
Let's think back to our scenario with Jordan's international custom recliner store. Jordan's called you looking for a way to secure her site in Auckland, New Zealand, which is made up of a showroom, an office, a staff area, a production facility, and a warehouse. She also needs to manage her stores in Wellington, Christchurch and across Australia. Jordan is looking for more details about how the keypad can help her maximize efficiencies for her business.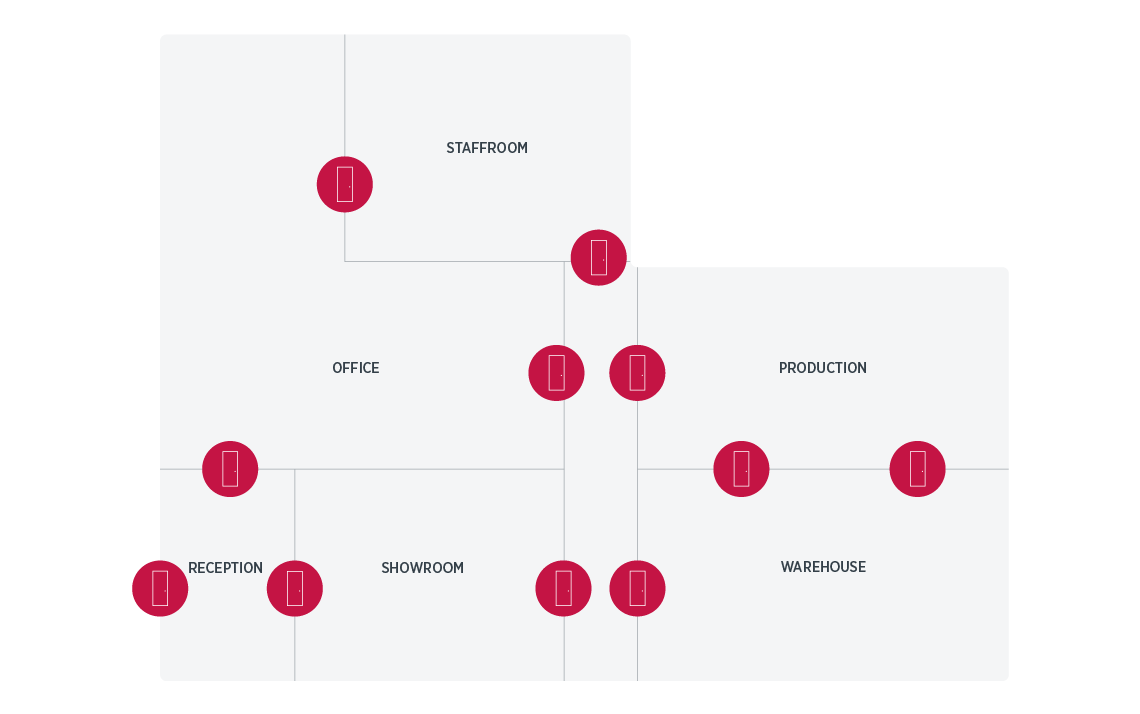 The Benefits of Protege Keypads
In the previous articles, we've explored a range of arming options and how keypads can be used to increase energy efficiency. Let's check out some other ways that Jordan, her staff, and her business could benefit from an ICT keypad:
User Menu Groups
While it's handy that you can do so much from the keypad, not everyone needs access to everything. Jordan and her staff don't need to see the installer or trouble menus, and there are some controls that she'd rather her staff couldn't access. By setting up menu groups, you can control who has access to which menus and functions. You can also set it so that Jordan's staff can only access keypads at the location they work, while Jordan can use the same PIN at every site, so she doesn't have to remember 6 different numbers.
Menu groups help Jordan save time as she doesn't need to scroll through options that aren't relevant. She also feels more comfortable knowing her employees are only able to access functions that apply to them.
User Management for Protege WX
User management through the keypad is easy if you're using Protege WX. Keypads can be setup to give advanced users, such as business owners like Jordan, authorization to add new people with immediate access, modify user settings, or delete and instantly remove access. Being able to change these settings at the keypad makes Jordan's life much simpler – when a new employee starts, all she has to do is add in their details and have them create a PIN.
To ensure her buildings access is completely secure, Jordan can also enforce periodic expiry of PINs. Users are notified when they go to log in and – right from the keypad – Jordan and her staff can easily create new ones through the User Menu. Simple and seamless.
PIN Reset for Protege GX
With Protege GX, Jordan can implement PIN expiration and reset. Jordan can set the system so that all staff (regardless of site) are given a new PIN that is randomly generated by the system every 3 months. With PIN expiry, when an employee enters their PIN, they'll be prompted to change it and their old one is disabled. Knowing that PINs are more secure and expire every few months enables Jordan to feel more comfortable about all her store's security.
To learn more about these features and how they can be programmed so your clients get the most out of their keypads, check out the following documentation:
Conclusion
In the fourth part of this ongoing series, we've continued the journey in showing clients, like Jordan, the benefits of ICT's keypad range and how they make building security stress-free and seamless. To discover even more about the features available, keep your eyes out for the next installation.
To find out more about our keypad range, check out the following links: