Benefits of ICT Keypads: Part 1
Simultaneous and Cascading Arming and Control
Did you know that ICT keypads are capable of so much more than arming and disarming areas? In this blog series, we'll explore how your clients can use their keypads as the central point to control doors, easily defer arming, manage users, and even check the status of areas and events. The wide range of capabilities a keypad provides can make both yours and your customers lives so much easier, as managing access and control becomes as easy as 2 key presses.
Jordan's International Recliner Company
During this series, we'll look at the different keypad features with the help of Jordan, a prospective client who runs a custom recliner design store based in New Zealand. Her NZ store comprises of a showroom, an office, a staff area, a production facility, and a warehouse in Auckland, as well as retail stores in Wellington and Christchurch. Jordan's business expanded rapidly thanks to her high-quality recliners, so she also has several storefronts across Australia.
Jordan needs to have a robust security system installed and calls you because she is looking for a way that she can easily keep all her sites, staff, and goods secure without having to spend valuable time readying systems across multiple sites or going around checking everything. Previously, there have been incidents where doors in the warehouse weren't locked properly overnight and she wants to ensure this never happens again.
You tell Jordan that an ICT Protege keypad would help her accomplish what she needs and more. However, Jordan wants to know more details of why these keypads are the best fit and how it'll help her easily keep her locations secure.
The Benefits of Protege Keypads
A Protege keypad has many benefits, as well as some features that are unique to ICT, which ensure a more seamless and stress-free approach to security and control, even when sites are in another country. Right from her keypad in her Auckland store, Jordan can use:
Area group arming and door control
With area group arming, you can arm and disarm all areas across multiple sites at the same time, with two simple presses of the keypad. This means that Jordan will be able to arm all the areas in her local store: the showroom, office, staff room, production, and warehouse facilities, as well as her Wellington, Christchurch, and Australian stores all at once. Jordan can also check the status of and control all the doors in all locations right from the keypad, ensuring that doors are never left open or unlocked overnight again. These unique ICT features will help free up Jordan's time and make securing her sites much easier.
Child area arming and disarming
If clients, like Jordan, would rather not arm or disarm all areas at once, you can cascade the function using child areas. This allows you to arm (or disarm) an area or group of areas from the keypad and the system will then automatically arm (or disarm) the dependent child area. This is ideal for buildings with common areas, or areas that are within other areas.
Jordan can have this configured so that her child area arms when one of the parent areas is armed or when all the parent areas are armed. In Jordan's case, we could set the showroom, office, production facility, and warehouse as parent areas, and her staff room as the child area to only arm when all the other areas are armed. This way Jordan can ensure her staff are out of the parent areas before arming the staff entrance. By having these features available, Jordan has several options for how she can arm and disarm her buildings.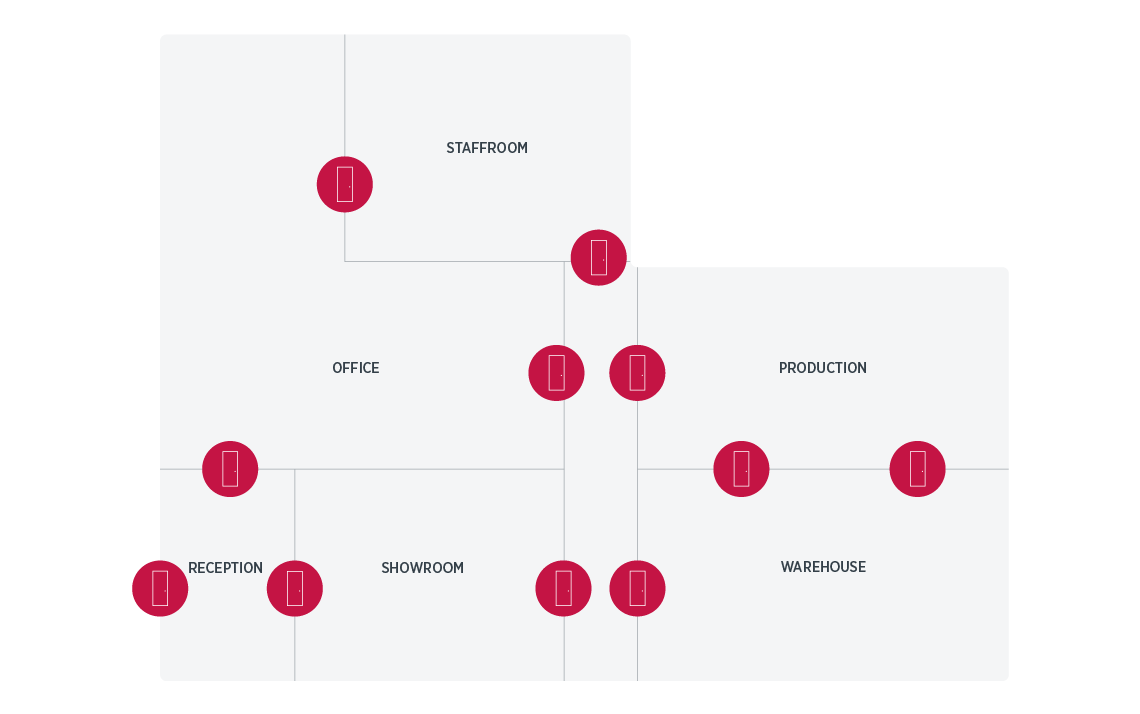 With multiple arming and disarming options, Jordan can customize the system to fit her needs, enabling her to feel confident in her buildings security.
To learn more about these features and how they can be programmed so your clients get the most out of their keypads, check out the following documentation:
To find out more about our keypad range, check out the following links:
Conclusion
In the first part of this ongoing series, we've begun the journey of showing clients, like Jordan, the benefits of ICT's keypad range and how they make building security stress-free and seamless. To learn about more about the features available, keep your eyes on your inbox for next week's installation.