Benefits of ICT Keypads: Part 5
Staff Safety 
Did you know that ICT keypads are capable of so much more than arming and disarming areas? In this blog series, we'll explore how your clients can use their keypads as the central point to control doors, easily defer arming, manage users, and even check the status of areas and events. The wide range of capabilities a keypad provides can make both yours and your customers lives so much easier, as managing access and control becomes as easy as 2 key presses.
This is part 5 of our keypad series, if you've missed the previous articles you can check out part 2, part 3, part 4 now, or start from the beginning.
Jordan's International Recliner Company
Let's think back to our scenario with Jordan's international custom recliner store. Jordan's called you looking for a way to secure her site in Auckland, New Zealand, which is made up of a showroom, an office, a staff area, a production facility, and a warehouse. She also needs to manage her stores in Wellington, Christchurch and across Australia. Jordan is looking for more details about how the keypad can help her maximize efficiencies for her business.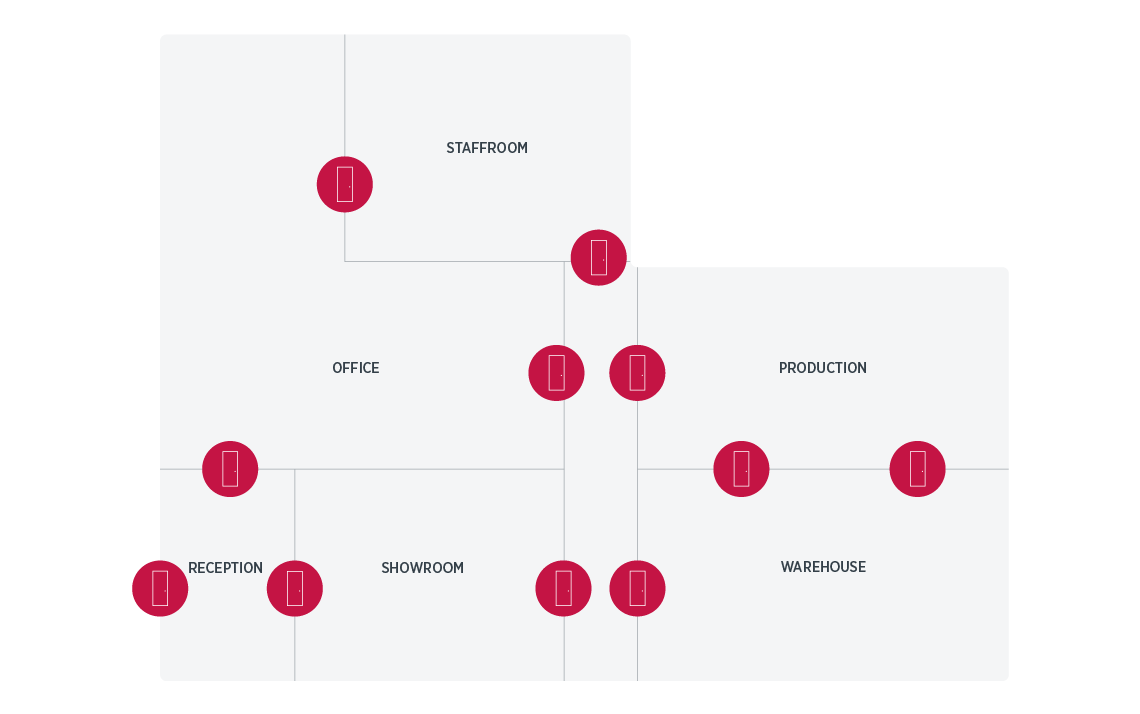 The Benefits of Protege Keypads
In the previous articles, we've explored options for arming, managing users, as well as how keypads can be used to increase energy efficiency. Let's check out some other ways that Jordan, her staff, and her business could benefit from an ICT keypad:
Emergency Egress and Smoke Detector Reset
Jordan can use the Emergency Egress function so that during a fire, all doors (or designated doors) are automatically unlocked to allow everyone to safely evacuate the building. This is triggered when a specific output - such as a smoke or fire alarm - is activated but can also be enabled through the keypad. Doors remain unlocked until the output is deactivated.
If enabled, Jordan can also reset the smoke alarm from the keypad. This is done by holding the CLEAR and ENTER keys for 2 seconds, which will then activate a relay that resets the smoke alarm.*
Lockdown
If threats such as an intruder or a suspicious person in the area are reported, Jordan can use the door lockdown function to quickly secure her entire site using a code at the keypad. You can configure this function to still allow entry and/or exit, depending on your needs. Having plans in place in case the worst happens is the kind of proactive risk mitigation that Jordan likes.
Man-Down Alert
Warehouses and production facilities are notorious for health and safety hazards, which is seen with the fact that in 2019 workers in these industries ranked as having the third highest occupation for workplace injuries in the US. Forklift accidents, heavy objects falling, and slips are all common occurrences that can seriously injure employees. By configuring her keypad to support the man down alert function, Jordan can mitigate serious risks to her warehouse and production facility staff.
When the warehouse employees enter their PIN to disarm the area, a timer starts. If the motion detectors aren't triggered within a set period of time, an alarm is raised so other staff on site, a monitoring station, and /or emergency services are notified.
Alternatively, Jordan can set it so the employee must enter their PIN at the keypad or push a button every 10 minutes – this can be a button on the wall or a personal alarm device that the employees keep on them, such as a 2-button transmitter. To reduce false callouts, you can configure the keypad to beep when it's about to go into alarm, prompting staff to check in if they've forgotten.
Man down alerts are especially useful for lone workers, ensuring that minor injuries don't turn into serious events when nobody else is around.
To learn more about these features and how they can be programmed so your clients get the most out of their keypads, check out the following documentation:
Conclusion
In the fifth part of this ongoing series, we've continued the journey in showing clients, like Jordan, the benefits of ICT's keypad range and how they make building security stress-free and seamless. To discover even more about the features available, keep your eyes out for the next installation.
To find out more about our keypad range, check out the following links: