Benefits of ICT Keypads: Part 6
PIN Security
Did you know that ICT keypads are capable of so much more than arming and disarming areas? In this blog series, we'll explore how your clients can use their keypads as the central point to control doors, easily defer arming, manage users, and even check the status of areas and events. The wide range of capabilities a keypad provides can make both yours and your customers lives so much easier, as managing access and control becomes as easy as 2 key presses.
This is part 6 of our keypad series, if you've missed the previous articles you can check them out here:
Jordan's International Recliner Company
Let's think back to our scenario with Jordan's international custom recliner store. Jordan's called you looking for a way to secure her site in Auckland, New Zealand, which is made up of a showroom, an office, a staff area, a production facility, and a warehouse. She also needs to manage her stores in Wellington, Christchurch and across Australia. Jordan is looking for more details about how the keypad can help her maximize efficiencies for her business.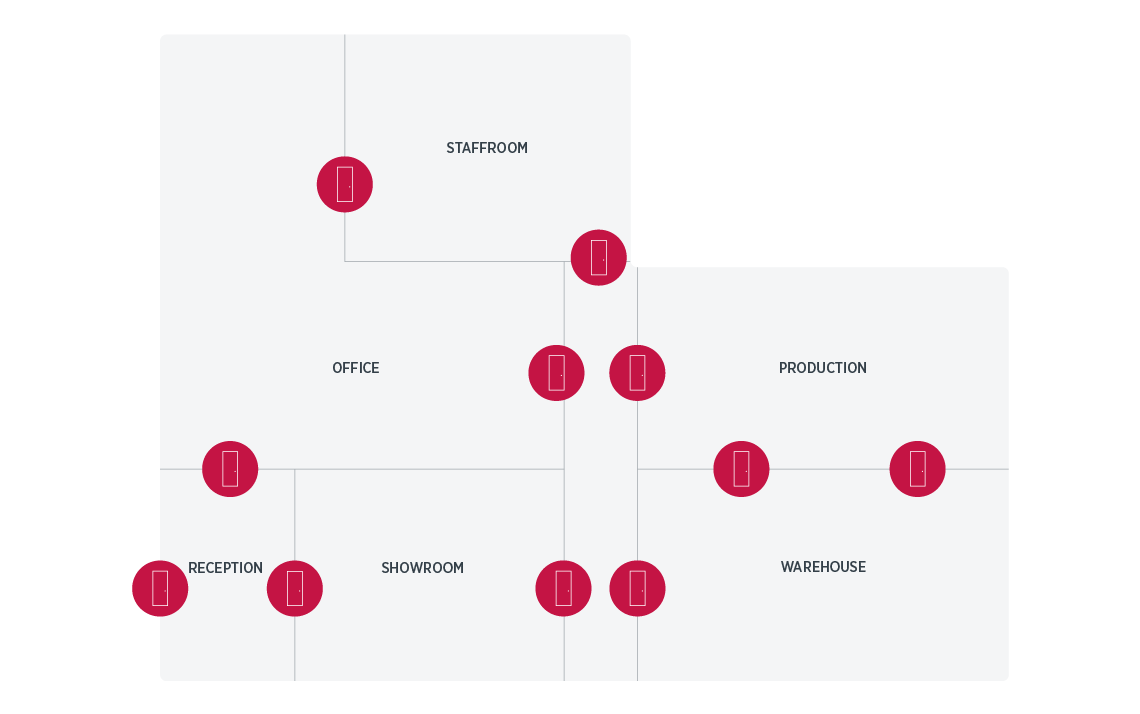 The Benefits of Protege Keypads
In the previous articles, we've explored a range of arming options, learnt how keypads can be used to increase energy efficiency, and discovered how they can keep staff safe. Let's check out some other ways that Jordan, her staff, and her business could benefit from an ICT keypad:
PIN Security
The site security enhancement feature in Protege GX provides greater control over keypad security and the use of PINs.
Enabling the Dual Credential settings requires users to enter both a User ID and a PIN to gain access, allowing Jordan to accurately identify which users have logged in. In addition to this, PINs and user codes can be automatically generated, ensuring that everyone's codes are unique.
This is particularly important for high-risk sites. Studies have shown over a third of people use the same PIN for multiple purposes and that they are easily guessed as people often use PINs based on important dates or simple sequences such as '1111' or '1234'. Jordan can also set PIN complexity rules including the maximum amount of sequential and/or repetitive digits.
With these options, Jordan can feel more confident that her sites in Australia and New Zealand are robustly secured
Two Factor Authentication
To further secure access to Jordan's sites, you can enable two-factor authentication. This requires a user to present 2 different credentials (such as Card and PIN, or PIN and Biometrics) to gain access. If a card is lost or stolen, or a PIN guessed or forgotten, it adds an extra layer of security to the premises, so intruders are less likely to gain access to the buildings.
Vault Control
While this feature is typically used in the financial industry, it can be used for any high-security area. Once setup it allows you to add a disarm delay after the user enters their PIN. This ensures that the area can't be disarmed quickly in the event of intruders and allows more time to alert authorities. Jordan may wish to use this feature in areas with highly valuable goods, such as her production facility or her office.
Jordan can also enable the dual code vault setting, which requires a second user to enter the PIN before the area is disarmed. This adds another layer of security and ensures that nobody is entering areas they shouldn't be.
To learn more about these features and how they can be programmed so your clients get the most out of their keypads, check out the following documentation:
Conclusion
In the sixth part of this ongoing series, we've continued the journey in showing clients, like Jordan, the benefits of ICT's keypad range and how they make building security stress-free and seamless. To discover even more about the features available, keep your eyes out for the next installation.
To find out more about our keypad range, check out the following links: