Benefits of ICT Keypads: Part 7
Displaying Information
Did you know that ICT keypads are capable of so much more than arming and disarming areas? In this blog series, we'll explore how your clients can use their keypads as the central point to control doors, easily defer arming, manage users, and even check the status of areas and events. The wide range of capabilities a keypad provides can make both yours and your customers lives so much easier, as managing access and control becomes as easy as 2 key presses.
This is part 7 of our keypad series, if you've missed the previous articles you can check them out here:
Jordan's International Recliner Company
Let's think back to our scenario with Jordan's international custom recliner store. Jordan's called you looking for a way to secure her site in Auckland, New Zealand, which is made up of a showroom, an office, a staff area, a production facility, and a warehouse. She also needs to manage her stores in Wellington, Christchurch and across Australia. Jordan is looking for more details about how the keypad can help her maximize efficiencies for her business.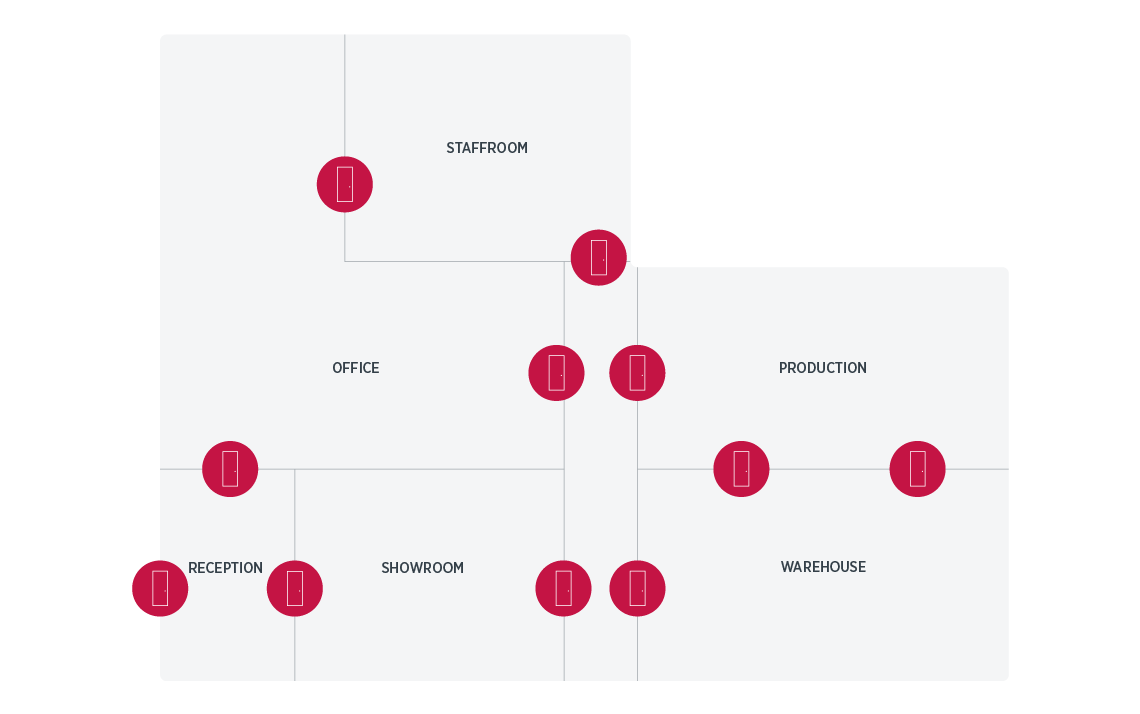 The Benefits of Protege Keypads
In the previous articles, we've explored a range of arming options, learnt how keypads can be used to increase energy efficiency, and discovered how they can keep staff safe. Let's check out some other ways that Jordan, her staff, and her business could benefit from an ICT keypad:
Display Settings
The various display options allow you to choose the messages that are shown on screen, making status checks easy. Text is displayed across 2 lines, with a maximum of 16 characters per line (including spaces). This can include:
Customized branding
Custom display messages are shown when there's no user logged in and are perfect for branding options including company name and/or taglines. Jordan can have hers read "Jordan's Custom Recliners".
Time and Date
Alternatively, Jordan can simply display the date and time. This can be configured in various ways, such as 12- or 24-hour format, including the day of the week, the month, and even the year.
Alarm memory
If the display alarm message option is enabled, whenever there's an alarm in the keypad's history, the keypad will beep and show the message "system has alarm in memory". In fact, Jordan can check all keypads alarm memories across her New Zealand site from the keypad outside her office. This saves her time, adds ease to her life, and ensures any alarm activations aren't missed. This can also be found in the Menu by pressing [MENU, 5, 1] or by setting the system to automatically show the alarm memory upon login.
Primary area status
With this option enabled, the keypad will display the status of the primary area that it's connected it. So, Jordan doesn't need to spend time logging into the keypad and going through the menus to check whether her office is armed.
Trouble messages
If the display trouble message option is enabled, the keypad will beep and display the message "Trouble fault check system" whenever there is a system trouble condition. This allows Jordan to feel confident she'll be made aware of any issues.
Defer area warning messages
Back in Part 2, we learnt how defer arming can be used when staff are working late . To ensure that nobody forgets to defer the alarm, you can set the keypad to beep and display a "*WARNING* System is about to ARM!" message when the area begins the arming cycle.
Show user greeting
When this option is enabled, the keypad displays a customized greeting to the user when they login. For example, when Jordan arrives for the day and logs in at the keypad, she'll see "Good Morning Jordan Smith".
Event records
Jordan can review any events that have happened from the keypad by pressing [MENU, 3, 1] . This allows her to see the most recent events across her New Zealand site. If enabled, this can also be accessed through offline mode (when no one is logged into the keypad).
Confidentiality Mode
If confidentiality mode is enabled and the onboard output is activated, the power, disarm, arm and LCD backlight, will turn off when the keypad is not being used.
To learn more about these features and how they can be programmed so your clients get the most out of their keypads, check out the following documentation:
Conclusion
In the seventh part of this ongoing series, we've continued the journey in showing clients, like Jordan, the benefits of ICT's keypad range and how they make building security stress-free and seamless. To discover even more about the features available, keep your eyes out for the next installation.
To find out more about our keypad range, check out the following links: