Seamless access with ICT's
Wireless 433MHz range
Access control is critical to keeping buildings secure. Without having systems in place buildings are open to intruders and trespassers, which results in risks to people, infrastructure, and goods. But it's not just front and back doors that need to be secured, it's also parking lot entrances. Yet, using a pedestal reader is costly to install, often results in damage to the pedestal and vehicles, and may be inaccessible or unpleasant to use in adverse weather conditions.
The Wireless 433MHz Receiver and Transmitter: Perfect Integration 
Thankfully, there's an integrated solution. With ICT's Wireless 433MHz product range you don't need traditional pedestal readers because the wireless receiver integrates with ICT's 2 and 4-button remote transmitters. So, you can open the garage or gate from a range of up to 200m/656ft*, without even having to roll down your window.
The receiver is easy to install and use—all you have to do is push a button on the transmitter, the receiver passes the information to the control panel to determine if that user has access based on the information in the Protege GX or WX system.
The transmitter can be hooked onto a keyring so risk of loss is mitigated. However, since users are easily managed from the Protege system or app if someone does lose their transmitter it's simple to deactivate. Each transmitter has a red button that can be programmed to act as a panic/man-down alert, equipping the user with their own personal alarm.
Transmitters can be used in conjunction with the building automation features within Protege so a button press can open the gate and turn on the garage lights. The transmitter is available with an optional DESFire, MIFARE or HID compatible proximity device, allowing it to be used for standard door access - you can learn more about the benefits pf a DESFire credential solutions in our article here.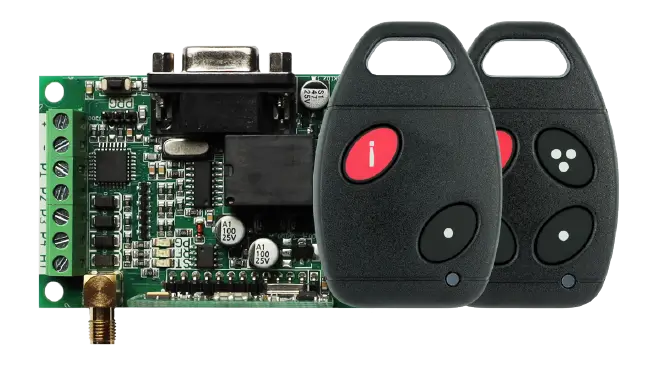 Use Cases  
Overall, the receiver and transmitter integrates to provide a unified access control solution, all the way from the parking garage to the building. Let's look at some places that these could be used to create this seamless security option:
Commercial warehouse environments
The wireless receiver and transmitter can be used in commercial environments, such as production facilities with multiple gates. Because ICT's receiver is wireless, your clients don't need worry about costly wiring or difficult installation of pedestal readers. And it can't be damaged from difficult to maneuver trucks, cutting down costs and stress in the present and the future.
Having multiple gates doesn't add further cost as the receiver can control up to 2 doors or gates. Since the transmitter has 4 buttons, one can be used for each gate, and you still have a panic button for emergencies. Additionally, since the transmitter can be used for standard door access, drivers don't need to carry around an extra access card. All this from one small remote that hooks onto the key ring the drivers are already using, meaning they're also less likely to lose or forget it.
Self-storage facilities  
The wireless receiver and 4-button transmitter can be used in 24/7 self-storage facilities, to keep the premises secure and accessible without the need for costly attendants.
Customers simply click the first button to open the gate and use the second button to open their storage locker. The third button can be programmed to turn on the lights, while the fourth red panic button ensures that if anything goes wrong, the right people are notified.
Residential facilities
Whether your clients need to secure an apartment building, a gated community, or a college dorm, ICT's receiver and 2-button transmitters helps tenants feel secure, without having to brave the elements or maneuver a vehicle to line up with a pedestal reader.
Tenants can use the transmitter to open the gate and then scan it at the reader to enter the building. Damaged readers and frozen shut windows become a problem of the past. The second button works as a panic alarm, giving tenants an extra layer of security right in their pockets. Because the transmitter easily hooks onto a key ring, its less easily lost or stolen, but if it is, no problem as it's incredibly simple to delete, modify, or add users through the Protege system. No need to change all the locks, making it a cost-effective and easy system where risks are mitigated.
Antenna Extension
For greater positioning flexibility, add the optional 3m/9.8ft antenna extension. You can install the receiver in a secure place, such as a cabinet or NEMA electrical casing, while keeping the antenna outside. The antenna also has a magnetic base, making placement easy.
Conclusion
We've covered a few scenarios where the receiver and transmitters can be used, however, there are many other places that can benefit from this integrated access system. To learn more about different applications and how ICT's receivers and transmitters can benefit you, talk to one of our friendly sales staff.
ICT's Wireless 433MHz receiver paired with the 2 or 4-button receivers can make building access management easy while also saving customers money. The cost of attendants, or wiring and installing pedestal readers is non-existent, while the risks that come with these strategies are mitigated. 
*The range of the transmitter is dependent on line of sight.