Importing Users via CSV in Protege GX
When first setting up a site, it's not unusual to need to program hundreds, if not thousands of user records. In these cases, manual data entry can be a daunting task that is tedious, time-consuming, and prone to human error.
However, as many organizations have an existing data source, such as an HR system or student enrollment database, this can be avoided by exporting user data to a CSV file or an Excel spreadsheet. With the Import Users wizard in Protege GX, you can easily transfer basic user data and map it directly to the corresponding fields.
This video runs through how to use the Import Users wizard in Protege GX.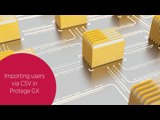 ICT Data Sync Service
If you're looking for a way to automate the import process or bring in more complex user data then the Data Sync Service can provide a flexible solution to fit a wide range of requirements.
With the Data Sync Service, the data is extracted from the third party system and saved to a shared network folder. This folder is monitored, and any relevant data is automatically imported into Protege GX where records are created (including users, access levels, areas, doors, schedules, and so on) for each matched entity. If the information in the import file changes, the service updates the records in Protege GX which reduces management time and enhances efficiency.