Protege X runner up in ASIAL Best New Product 2023 
ASIAL 2023 brought several exciting moments, including being nominated for Best New Product Award 2023!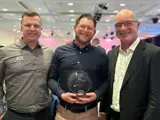 Protege X was selected by a panel of judges and awarded second place during the ASIAL Gala Dinner for its innovative cloud-based design in multi-site access control and intrusion detection programming and oversight. No VPN's or port-forwarding needed, you can control multiple locations from one interface, creating a seamless, future-proofed solution that's scalable by design. 
Thank you to our customers for their dedication and trust, as well as to ASIAL for the honor. Congratulations to everyone at ICT for their hard work in building the solution