Firmware update for Protege WX Controllers
We're excited to announce the release of a controller firmware update for Protege WX. 
The version 4.00.1234 update includes feature enhancements for dual authentication and now also automatically creates and downloads a backup of the programming when you trigger an upgrade.
This update also includes the following new features:
Aperio IP Multi-Hub Integration
Protege WX controllers are now able to integrate with up to four Aperio IP hubs over an ethernet network. Each hub can control up to 16 locks, allowing integration with a total of 64 wireless locks per controller.
This feature includes:
A range of Aperio wireless locks are supported, along with Gen 3 and Gen 5 AH40 hubs
This integration supports MIFARE Classic and ICT encrypted DESFire smart cards
Unique trouble inputs are available to monitor a range of status conditions for each door, such as door forced or low battery
Privacy mode is supported with compatible locks
For more information and programming instructions, please see Application Note 344: Protege WX Aperio Hub Integration.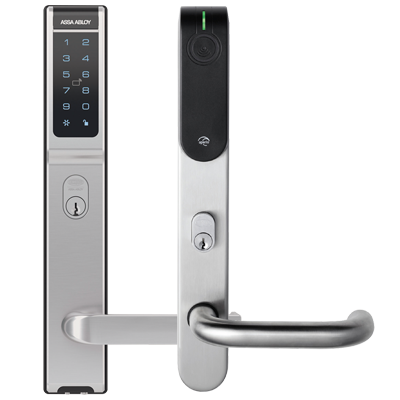 Function Outputs
Function outputs provide an alternative method of controlling outputs based on door state. When the door is unlocked, up to three function outputs or output groups can be activated. These operate independently of the lock outputs, allowing you to control connected devices such as automatic door pumps, chair lifts, and bypass shunts.
With this feature you'll be able to:
Activate the function output every time the door is unlocked, or only when the door is unlocked by access or REX/REN.
Activation can also be restricted to users with the extended door access function enabled, allowing you to limit control of accessibility devices.
Outputs can be deactivated when the door is opened or closed.
For more information and programming instructions, please see Application Note 336: Programming Function Outputs in Protege.
Download the Update
To download the firmware update, check that you're logged in to your website account, then go to Module Firmware and select the relevant product.  
Full details of the improvements, features, and resolved issues can be found in the Protege WX Controller Firmware Release Notes V4.00.1234.