Keyless access. Made easy.
The high level integration between Protege GX and SALTO enables you to seamlessly combine the real time power of online doors with the versatility and cost effectiveness of offline doors to give your access control system true flexibility.
How it works
SALTO combines the efficiency of both online and offline applications in a single system. Wireless locks use radio frequency technology to communicate with the Gateway, which in turn communicate with the server via ethernet and provide real-time information that is then used to permit, control or deny access.
The SALTO virtual network (or data on card) system allows standalone offline locks to read, receive, and write information via smart cards. Data is captured from cards at online hot spots (a wired reader also referred to as a Ubox) located at strategic points around the building and the hot spot uploads and downloads user related information, including updates to the 'blacklist'. These changes are written to the card and quickly spread through the system as the card is presented at each offline lock and the information stored on the lock is updated.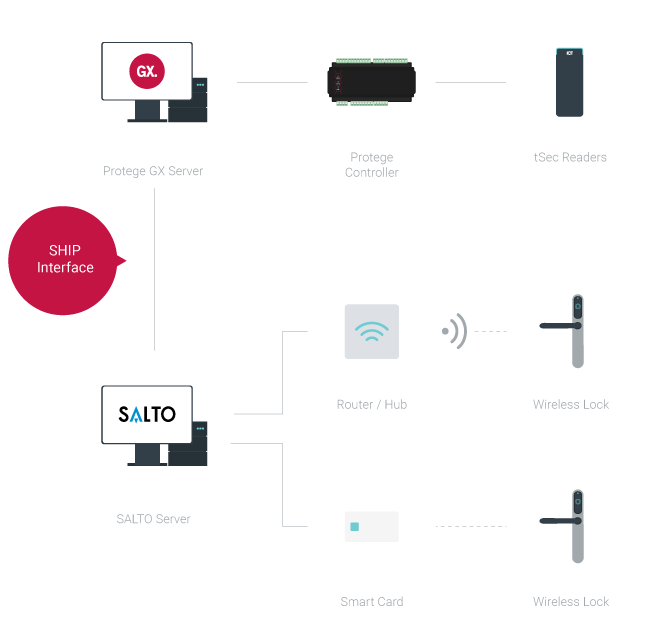 One system. One solution.
All administration and day to day tasks are performed from the Protege GX interface providing a single and comprehensive access control solution

Seamless integration provides an accurate, searchable audit trail of both online and offline events

View archived footage from all related cameras, including those for offline locks

Monitor and control SALTO wireless doors in real time

Encode cards in a single operation from the Protege GX interface
An answer for everything
Cost effectively lock high volume installations such as hotels, educational facilities, and large corporates using SALTO offline escutcheons, or retrofit existing lock sets with SALTO GEO cylinders

Control glass doors using SALTO offline or wireless locks where cabling is not possible

Use the SALTO GEO padlock to provide access control and an audit trail on equipment sheds, yard gates or machinery

Use the SALTO XS4 Locker to control access to lockers and cabinets where items such as medication, restricted equipment, and valuables are stored