Keyless access. Made easy.
SALLIS integration uses wireless technology that enables you to link SALTO standalone online devices with your Protege GX or Protege WX system, extending the capability to control virtually any kind of door without the need for complex wiring. The system is very cost effective as it dramatically reduces the installation costs, and it allows you to use your existing credentials thereby avoiding expensive migration costs. What's more, with the vast range of SALTO products, virtually any kind of door can now be equipped with wireless locks.
How it works
The user presents their credentials to the SALLIS lock. The lock sends the relevant user information to the SALTO Node which in turn relays it to the Protege Controller via the SALLIS Router. The Protege Controller then makes a decision based on the configured access permissions and the result is sent back to the SALLIS lock and the user is granted or denied access accordingly in real time.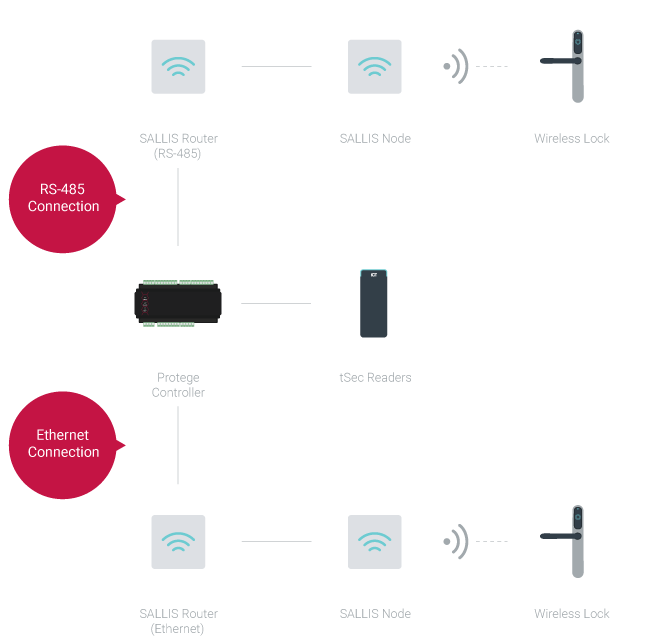 Benefits
Highly cost effective by dramatically reducing installation costs and offering greater flexibility

Compatible with existing 125kHz proximity or 13.56MHz MIFARE/DESFire credentials

Secure wireless communication with AES 128bits encryption
Real time access control and event monitoring for greater security and control

Online audit trail and battery status

Vast range of locking devices available with a flexible design that can be fitted to almost any door (narrow profile, aluminum doors, heavy duty doors, panic bars, glass doors etc)