Wireless locking support expanded to include Allegion ENGAGE series
As project requirements and end-user expectations shift towards a more unified approach to access control and intrusion detection, the seamless integration capabilities Protege offers are becoming increasingly important. At ICT we're committed to providing our customers with a single point of control by further expanding our integration with Allegion to support the ENGAGE series of wireless locks, which includes the NDEB and LE/B models.
Please note - Allegion ENGAGE integration and NDEB & LE/B locks are currently only available to customers in the USA and Canada. For all regions, Allegion AD series wireless locks are still available to purchase.
Get to know the ENGAGE series
The Schlage NDE/B and LE/B are wireless locks with built-in credential readers. They're designed with end-users in mind, so they are easy to install, connect, manage, and use.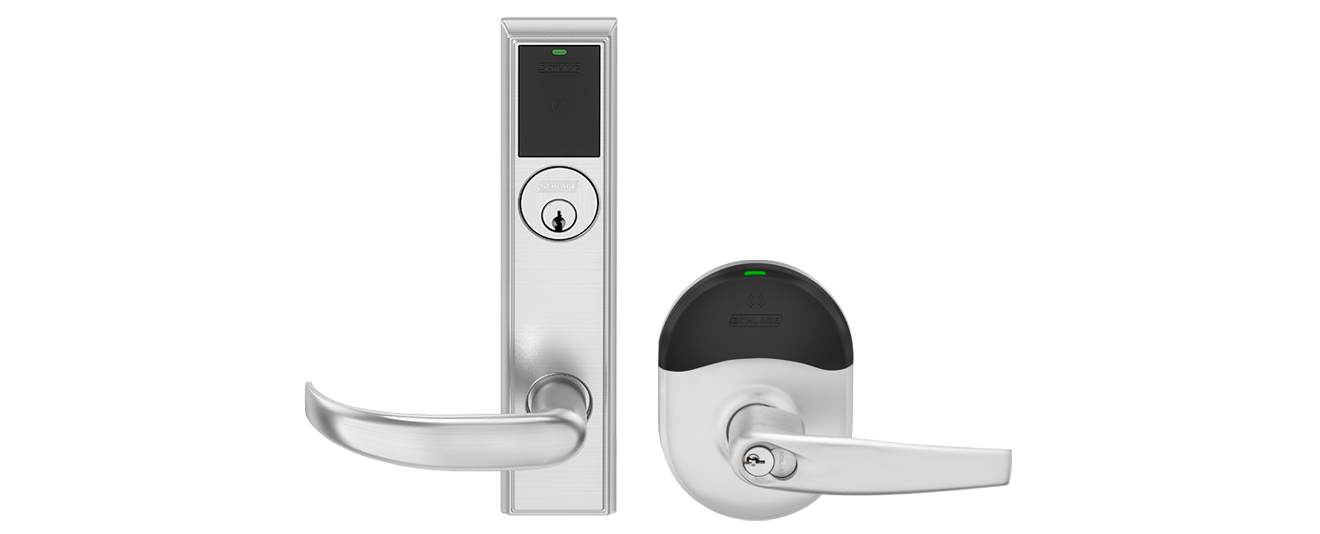 These locks are purpose-built for facilities that are looking to upgrade to electronic credentials for a complete solution. The readers are compatible with 125KHz proximity and 13.56MHz smart credentials and are the perfect solution for offices and common areas.
The integration with ICT means that you can control the credentials and locks from your Protege WX or Protege GX system. In fact, one Protege DIN rail controller can manage 128 Allegion locks, giving you a cost-effective and scalable solution for your access control needs.
Whether you choose the NDEB, or LE/B lock, you'll have access to status monitoring of door position, remote lockdown and unlocking, low battery, and communication status.
A one-card solution
One of the greatest benefits from this integration is that you only need one access card for multiple readers and locks. ICT's smart card technology means multiple credentials can be programmed on a single card.
Hardwired ICT locks can be used on high-security or perimeter doors for buildings and apartments, while the wireless Allegion locks enable you to update and expand your system to apartment or common area doors, ensuring your access control is robust and secure. And to bring even more ease to your life, both hardwired and wireless locks are available from your ICT sales representative.
More benefits
Let's look at some of the other key benefits that come from this integration:
Simplified integration
This integration enables Protege to communicate with the locks directly, via Allegion interface devices connected to the controller.
You can set up and manage users and their building access with the Protege GX or Protege WX systems, so user management and access control is made easy. You'll also have access to alerts, advanced unlocking schedules, and manual door commands through the Protege interface on your desktop or the Protege Mobile App.
Always on direct communication
Wireless locks can be considered either 'offline' or 'online'.
Offline locks only turn on when you badge your credential at the reader, so features like battery status and arming may not work. Online locks are on all the time and so you can manually control doors from anywhere and be notified about the battery status.
Allegion ENGAGE locks are online, with direct communication between Allegion and Protege. You can monitor events and receive real-time updates about the door status to the Protege controller.
This seamless integration means you'll be immediately notified if anyone is trying to force open doors or has tampered with any of the locks. You can then lockdown the building right from Protege GX, Protege WX, or the mobile app.
In Protege, you'll get the exact time and door that someone tried to tamper with. So, rather than watching endless hours of security footage, you can go directly to it and see the intruder.
Part of a complete multifamily solution
For installers or end users looking to capitalize on the unified Protege platform for apartments or condominiums, wireless locks provide a simple solution for apartment doors and mean only a single credential for all access control. And everyone benefits from integrated video intercom access, license plate recognition, data sync between third party software such as rental management tools, and more.
Learn more about ICT's multifamily solution.
Supported Features
With these locks, you have access to supported Protege and Allegion functionality, so you don't have to compromise.
Supported Protege Functionality:
Users, access levels and credential matching 
Granting or denying access based on doors, door groups, and schedules
Unlock on schedule, by area, calendar action
Pre-alarm, left open, forced open alerts
Manual door commands
Supported Allegion Functionality:
Remote lock/unlock and remote lockdown
Deadbolt function
Inside handle REX
Lock schedules and holidays
Privacy mode
Storeroom mode
Door propped open
Door forced open
Interior cover tamper – lock enclosure
Interior cover tamper – GWE enclosure
Gateway BLE tamper
Communication loss
Power loss
Battery status
Licensing Requirements
In order to install these integrated locks, your clients will require an Allegion Door License for each Allegion lock connected to the Protege system.
Conclusion
With this integration, upgrading and updating your site security has never been easier.
To learn more about these features and how you can start securing your site with this integrated solution, check out the following Application Notes or reach out to our friendly sales staff who will help you to find the solution you need.
Find out how wireless locking solutions can benefit your organization today