Victory for Brian McGovern and the ICT Porsche
After five consecutive years of Championship runner-up placings in the Pirelli Porsche NZ Championship, Auckland's Brian McGovern and the ICT sponsored Porsche finally claimed the elusive Motorsport Porsche Championship at Bruce McLaren Motorsport Park in Taupo.
In a unique event attended by the Pirelli Porsche Race Series and a large number of Porsche road track day cars, the final round was able to be completed in a hugely successful one-day event.
Although the three races were won by Connor Adams with a non-control tyre in a leased 997 GT3, McGovern's actual battle was with Wellingtons Robert Dong who held a slender one-point lead heading into the final round.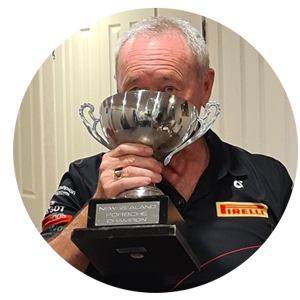 It was obvious McGovern was content to sit out of trouble behind the non-Championship Adams throughout the day, steadily accumulating points though the Championship was still to be decided by the last race. Unfortunately, Dong had to drop back with gearbox issues which allowed McGovern to hassle Adams at the front.
The final Championship points showed a close lead of 51 points, though the season was dominated by McGovern winning 12 of the 15 races he contested and missing a round with a broken leg.
Jim McKernan from Wellington claimed the coveted Pirelli Porsche Club Championship based on class points with consistent points through the season and finishing just 6 points ahead of Te Awamutu's Marin Vujcich and Robert Dong. Vujcich won the Pirelli Enduro Cup for the longer races, with consistency in a slower car proving the winning formula when others failed around him.
Interest is already focussed on the next season for the Pirelli Porsche NZ Championship with the latest format of a one-day event, some longer races, less classes, and engagement with Porsche road car owners proving to be a very productive format with the Porsche Club, race drivers and track management.