Securing Australia's only self-service butchery
Wolki Farm is a regenerative farm in Albury, New South Wales, Australia that specializes in paddock-to-plate, pastured produce. With a strong focus on sustainability, Wolki Farm is being proactive and closing the biological loop to improve the land for generations to come.  
They have also opened Wolki Butchery to sell their produce direct to the public. Owner Jake Wolki describes it as "a modern-day farm gate," but it's no ordinary meat shop. In alignment with the forward-thinking nature of the farm, and thanks to the convenience and security provided by ICT, Jake has developed Australia's only 24/7 completely self-service butchery experience.
After issues with a previous system that was difficult to use and vandalized, Jake approached local integrators and ICT Partners, Lockworx Australia to tap into their expertise. Requiring a user-friendly solution to control keypad entry, a two-door airlock, and remotely issue user PINs with ease, Jarrod Neall, Operations Manager at Lockworx said a Protege WX system was a "no-brainer."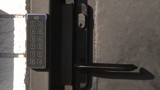 "It's simple to setup, provides secure entry for the site, and the interface makes it easy for Jake to assign credentials straight from his laptop."
Jake explains that their onboarding process for new members is a little different to what you might expect. "Because our local pasture-raised produce and values are quite different to what you get elsewhere, they have to do a farm tour first, to understand what we're doing. After the tour, I generate them a PIN in Protege WX and off they go."
Members enter their PIN on the tSec keypad reader at the front door, then enter, select the products, and use an app to scan and pay for their purchases. Despite the level of trust this model allows, precautions such as video surveillance and the farm-tour vetting, mean Jake reports they are yet to lose any stock.
Jake is very complimentary of Jarrod and the Lockworx Australia team saying, "I was pretty time sensitive. My store was closed because of my previous system. They let me squeeze in and were a lot more knowledgeable about my requirements and how to execute it than the previous team I'd worked with. They did a really good job."
We're proud that our technology and network of ICT Partners around the globe - like Lockworx Australia - not only keeps sites secure, but allows innovative businesses such as Wolki Butchery to thrive and take convenience to the next level.