Protege DIN Rail: Making a DIN
Our Protege DIN rail solution has you covered. Designed to minimize effort at installation and maximize space in your cabinet/enclosure, the versatile, modular design also means you can easily add to the system as needed.
This article explains all you need to know about ICT's Protege DIN rail products, giving you an overview of the range, demonstrating mounting options with simple installation instructions, and providing a guide to the handy LED indicators on the front of the modules.
We manufacture all ICT DIN rail products at our state-of-the-art production facility in Auckland, New Zealand and all modules go through a rigorous testing process so you can be assured of superior product quality. We also offer additional peace of mind with a 5 year warranty when installed by a member of the ICT Dealer Network (IDN).
The Protege DIN Rail Range
ICT's Protege DIN rail range includes controllers, expanders and power supplies, and features modules in both full DIN and half DIN sizes. Our half DIN expanders are a true space-saving option. The dual stacked design means you get the same number of doors, inputs or outputs from a module half the size. We also offer single door Protege GX and WX controllers in half DIN size.
The durable enclosed design protects internal circuitry from physical damage or electrostatic discharge. Removable plug-in terminals give secure contact with the modules and allow for quick installation or easy servicing. Combined with space-saving half DIN modules and a wide range of dedicated security enclosures, we offer a truly customizable solution. From large, multi-cabinet installations, down to the smallest single door setup – ICT's Protege DIN rail range meets your needs.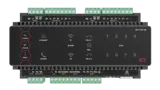 Controllers
Our full size Protege GX & WX controllers, or half DIN sized single door controllers are the heart of the ICT solution.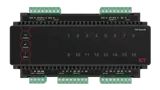 Expanders
ICT's reader, input, and output expanders come in both full DIN and half DIN modules, when additional elements to extend your system are required.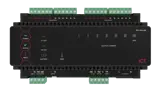 Power Supplies
The intelligent 2A, 4A or 8A power supplies provide 12VDC power to match the needs of any Protege network.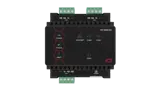 Network Repeater
Our Module Network Repeater extends the network capabilities of the Protege system, simplifying network and power connectivity.
Mounting Options
We have a range of dedicated security cabinets made from robust powder-coated steel. Removable doors allow for simple mounting and maintenance, and all models have a built-in tamper switch and bracket, a cam lock for security, and internal windowed cover panel to keep your installation looking as clean as possible, while providing clear visibility to the LED indicators on the modules.
Other features include:
Keyway holes for simple surface mounting
Ventilation holes to prevent overheating
IP50 rated for dust protection
Multiple knockouts for trunking and field wiring
Space for finger trunking or cable tie points above and below modules
Each enclosure features multiple product bays to provide a range of mounting configurations with at least three layout options for each size.
Or you can use any spare rack space and mount your ICT DIN rail modules alongside existing HVAC systems or electrical components.
How to Mount and Remove Modules
Watch our handy how-to video to see how easy it is to mount and remove our DIN rail modules. Mounting is as simple as clicking the module into place, and all you'll need to remove it is a flat-blade screwdriver (which we kindly include with your Protege WX or GX controller!).
LED Indicators Explained
Protege DIN rail modules have handy front panel LED indicators showing the status of devices at a glance, making servicing and diagnosis quick and simple.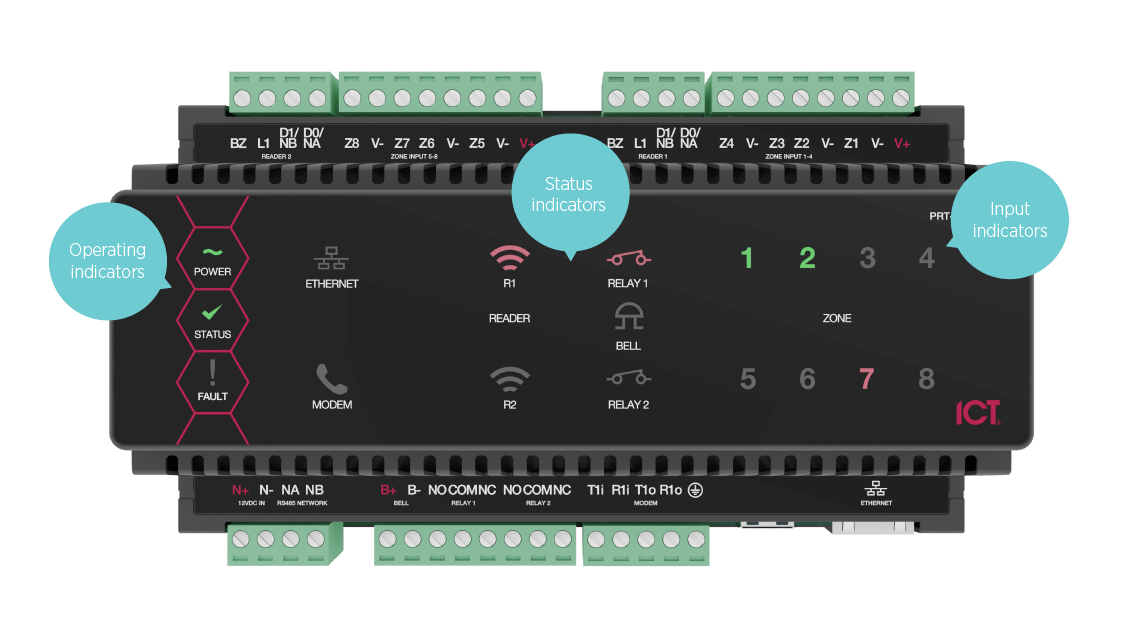 All modules have indicators for power, status and fault. Each type of module also has unique indicators - like ethernet link or relays on controllers, and output current or temperature on power supplies. 
You can use the input status indicators to quickly check whether a door (or other input) is open, closed, or in tamper or short state.  
For a full description of the LED indicators, please see the appropriate DIN Rail User Installation Manuals, found under the User Documentation on our website.