One door, one powerful solution
ICT's single door controller has been updated, bringing them in line with the functionality of the two door controllers. 
Small but mighty, the single door controller is the central processing unit responsible for the control of access control, intrusion detection, and building automation. Able to support two readers, it communicates with all Protege system modules, stores all configuration and transaction information, and reports alarms and activities.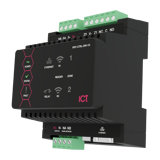 New features
We're always looking to stay change ready, which is why we're continuously innovate to improve our systems. The single door controller update includes:
Updated controller operating system
New operating system supports HTTPS security – the security protocol that often appears at the beginning of URLs to ensure your connection is trustworthy and secure
Single record downloads are now supported
The controllers now come with a USB port to support the Protege DIN Rail Cellular Modem