New features for our Geutebrück G-Core VMS integration
A key aspect to the ICT philosophy is the ability to integrate with other systems, simply and seamlessly. That's why we've expanded our Video Management System integration with Geutebrück G-Core.
The Protege GX integration with Geutebrück G-Core has been updated to support the latest version of this VMS. The Protege GX G-Core Video Service provides a seamless integration between Protege GX and the Geutebrück G-Core DVR System, allowing security personnel to control cameras and view live and historical video footage from within the easy-to-use Protege GX interface. The camera feed can even be embedded directly into a Protege GX status page, allowing for complete oversight of the premises.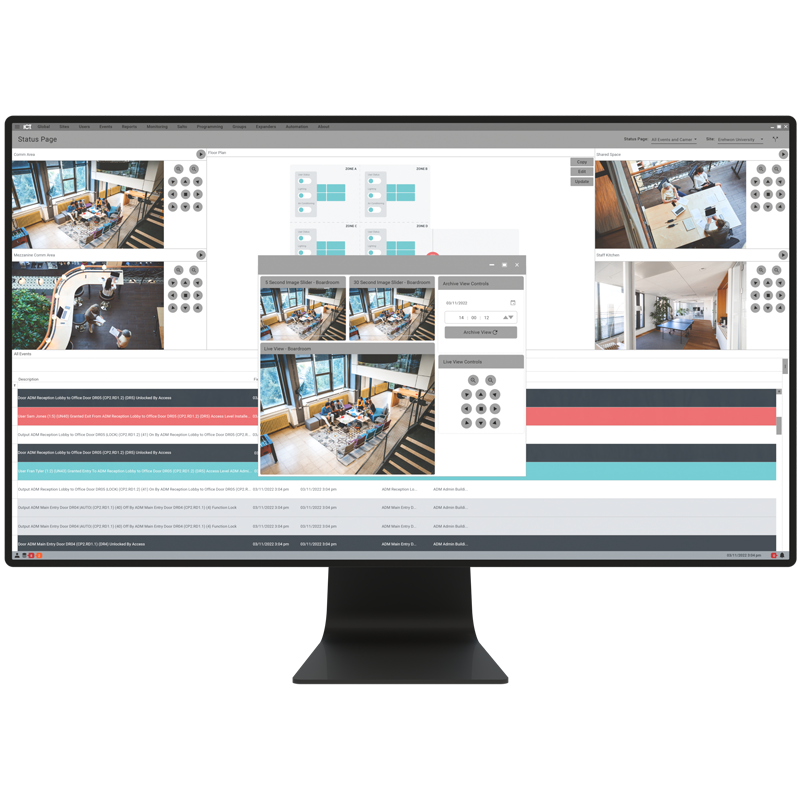 The high-level interface provides bi-directional exchange of information, enabling the communication of PTZ triggers and alarm interfaces back to the DVR. This update supports License Plate Recognition (LPR) – when the G-Core system detects a license plate, it sends that data to Protege GX. Create a truly robust parking solution by pairing it with our wireless 433MHz range of transmitters, which allows users to access garages and gated parking lots with the click of a button.
This update also sees new features for excess body temperature detection, using a thermal camera from Geutebrück, it can detect a person's body temperature as they enter the building and send the event to Protege GX, which can reduce the risk of illness spreading. Sound detection can also be set up through Geutebrück and an event will be registered in Protege GX, similarly to motion detection events. 
Protege GX feature support for Geutebrück G-Core also enables operators to: 
View historic and archived video footage.
View live or archived video footage directly from an event associated with a camera.
Send pre-set PTZ commands to the VMS in response to a Protege GX event filter.
Automatically launch a camera view window when specific types of events occur.
View HLI events directly in Protege GX such as:

Camera online/offline.
Motion or sound detection.
Excess body temperature detected.
License plate detected.
Low disk space.
Use Cases
This integration can benefit a wide variety of industries including:
Banking
Retail
Education
Government
Cannabis
Commercial/Industrial