October marks 20 years since Hayden and Rachael Burr founded ICT with a vision to give customers a simple way to unify access control, intrusion, and automation. To mark the anniversary, CEO, Hayden Burr talked to the International Security Journal about the history of the company and how innovations such as Protege have grown ICT from an idea into a major global player in the access control and security market today.
"The key part was to make it simple"
"My vision was a unification of access control, intrusion and automation – and there was a gap in the market for ethernet connected, control-based devices," said Burr. "The idea came about purely from looking at the industrial automation market and how it transitioned from that classic, stock standard Pro Logic controller, to something that's more connected."
"After releasing the controller with ethernet on board, we gravitated to adding additional modules/devices/integrations et cetera. This unified solution is still relevant today, even more so."
"The key part was to make it simple. A lot of the products out there were intrinsically complicated and only had one solution. We created something that could be just intrusion, just access control or just building automation – and we still have projects like that today. But the driving idea was that you create the real power when you combine them all."
The last two decades have seen industries make monumental advances with technology. Security is no different, as Burr explained, with connectivity and integration being the most significant.
"20 years ago, ethernet on an access control product was an accessory device or external module, connectivity to software applications was complicated and many defined 'integration' as a relay connection between two systems," he continued.
"From an access control perspective, I believe the changes are more subtle. It's always been about restriction, but it's evolving towards accessibility – using technology to allow people to move easily while maintaining safety and security. Then there's the spotlight across all industries on cybersecurity and the threats that are ever present."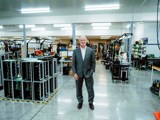 For the people
A familiar theme when you talk to people who deal with ICT is that 'it's about the people'. It's obvious how important family and the outdoors are to Burr. CoFounder (and wife) Rachael is head of finance and still comes in with her mother most Fridays to bake morning tea for the staff – a not insignificant task now there's over 200 people on site.
Burr explained: "Everyone asks me 'what makes ICT different and why are you so good?' The answer is because of our people. Being a family is embedded into the business, from staff to everyone that engages with us. Values are key and I believe the values at ICT extend to how our people act outside of the business.
"I have a connection with kaitiakitanga (a Māori word which translates to guardianship), which relates to the sky, sea and land and how we leave it for future generations. Being an avid outdoor person, this is core to me. Importantly, guardianship also relates to how we interact with other people, not just at ICT but everywhere. That's not luck. That's determination and absolute drive."
Digging deeper, it becomes clear how the extension of this 'family' has helped ICT to develop. "Over the years there's been a core group that I tap into for advice," Burr said. "My dad's a very accomplished businessman. So being able to leverage that skillset has been beneficial."
"There's a lot of stuff I've learned along the way and it's not like the road was paved in gold the last 20 years and everything just worked. It can be an absolute graft. Having a young child whilst starting a business, having one car so riding the mountain bike home at 4:00 PM. Bathing the child, having dinner, putting them to bed, going back to work, finishing at 4:00 AM and starting that all again for two years constantly. That's not luck.
"It's a case of surrounding yourself with the right people at the right time to leverage their to help take the business to the next level."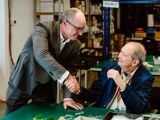 The next 20 years
We asked Burr about the recent deal with Advent Partners and how that's playing out for ICT. "Obviously when you bring in external investors, there are many changes," Burr commented. "But they're all positive things for the business. The guidance and governance that they provide is incredibly helpful. It allows us to deliver the right outcomes in our markets.
"We're very confident about our approach in the UK, EMEA and the US. I'm sure everyone's seen the transformation and the teams that we're building there. This expansion continues and we've got great plans for the next 12 to 24 months.
"Our new platform, Protege X, gives customers a cloud-based option with the latest cybersecurity feature and there's more exciting things on the way including something new in the MDU space which works in nicely with mobile credentials. It's also crucial that we keep building relationships with our technology partners to expand our unified ecosystem.
"So, it's all going 100 miles an hour and that's definitely a great place to be. I just really want to thank everyone that's been involved over the past 20 years – all our customers, partners, staff and their families. It's been a journey and I can't wait to see what's in store for the next 20."