From Remote Sites to Risk Mitigation
Why You Need a Cellular Modem 
Whether your clients are out in the middle of nowhere or smack dab in the center of the city, having a reliable network connection is critical to maintaining communication and security. That's why we're excited to introduce our new Protege DIN Rail Cellular Modem. This purpose-built modem acts as a fail-safe should hardwired network infrastructure become unavailable, so monitoring stations will still receive critical updates such as alarm reports from their Protege protected site.
Features of the Cellular Modem
There are many benefits to choosing ICT's cellular modem.
The modem provides reliable and secure cellular communication to any USB enabled Protege GX or WX controller, alongside a suitable SIM card. ICT has validated cellular network providers across the globe to ensure worldwide support for the service. For a list of providers, refer to the product documentation or datasheet.* This flexibility ensures users can pick a data plan that is suitable to their needs, rather than being locked into expensive or unsuitable contracts.
Using the included SMA antenna, you can increase the strength of the 4G connection. Being a DIN rail product, the module is essentially a plug and play solution. No difficult installations, no wires, no mess.
When used with a Protege GX controller, as long as there is cellular coverage, users can still manually control doors, as well as arm and disarm areas, even if regular network connection is down or the site can't be accessed. The modem can also send event updates from a Protege GX controller to the event database.
The continuous connection detection and automatic fail reset means users are quickly notified if there are any problems. This can be set up as a push notification, ensuring that no matter where users are, they'll receive an alert immediately.
Always in the know with ArmorIP
The cellular modem works with any of the ReportIP service protocols to communicate with and match that of the central monitoring station, but we recommend using ICT's ArmorIP protocol for added encryption and to receive push notifications.
ArmorIP has the added benefit of transmitting additional information where available, such as panel name, event time, serial number, user name, and much more. If the station is using the ArmorIP software, operators see this data – including the names of users, areas, and inputs - as it is seen by people on site. No more mismatches between what people are looking at.
By combining the cellular modem with ArmorIP, you're getting a robust solution that is cost-effective and reliable.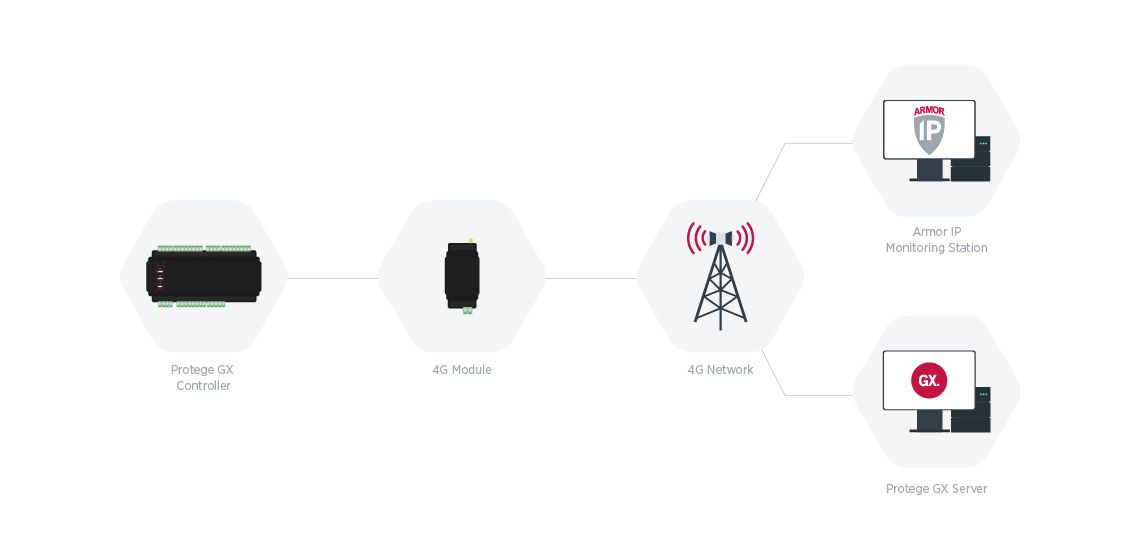 Use Cases
Let's explore some scenarios where the modem can bring benefits:
Remote Locations
With no physical network required, the cellular modem is the perfect solution for securing remote locations.
Sites with unreliable or no network infrastructure such as rural or off-the-grid facilities, like farms, can be notified quickly if an alarm is triggered, helping owners feel confident that their animals, crops, and expensive farm equipment are secure.
Concerned about your holiday home being broken into while you're away? Rest easy as both owners and monitoring station are alerted immediately if an alarm is triggered. The added convenience of being able to manually control the system from your phone, means you can arm and disarm the building remotely – ideal if you're going to be renting it out to guests.
With the cellular modem, being in a remote location doesn't mean compromising on security.
Proactive Risk Mitigation
Having great internet service doesn't mean you're immune to problems. Wired networks can be taken out by blackouts, floods, fires, and everything in between. Down time can last anywhere from 2 minutes to days, weeks, or even months.
Yet, some industries can't afford to be offline, even for a minute. High-security sites such as banks, water treatment plants, or pharmaceutical manufacturers must have robust systems in place so that in the event of a catastrophic failure, alarm reporting is not disrupted, and everyone's safety is assured.
Since multiple controllers can be connected by ethernet to report out through one modem, users can create a simple and seamless backup reporting system for the entire building. When using the ArmorIP protocol and Protege Mobile App, users will receive alerts straight to their phone if an alarm is triggered. While the modem uploads events from the controller to the events database, providing a complete audit trail.
You could say the cellular modem represents proactive rather than reactive planning and risk mitigation.
Additional Features
With Protege GX, users can enable cross-controller communication through a single cellular modem. By linking all controllers via wired ethernet, any controller in the group can use a single reporting service to report to a monitoring station, all through one modem.
The product label is laser marked on, so issues with labels peeling or being removed are mitigated, while also using less materials making it a environmentally friendly option.
When using Protege GX, you can send programming updates to the controller via the modem, but keep in mind that transmission is not as fast as ethernet, so we recommend this is restricted to small critical updates. Due to the speed of cellular networks, programming downloads work best in conjunction with the Protege GX single record download service.
Category M-1 cellular network capability with fallback to GSM.
LED Indicator included.
Frequently Asked Questions
Can the modem directly replace my dial-up reporting service?
Yes. You will need to change the reporting service from ContactID to ArmorIP, and the monitoring station must be capable of receiving ArmorIP signals or other supported Report ID services
Is the download speed the same as Ethernet?
No. Cellular network transmissions are not as fast as ethernet. The speed for the cellular modem is limited to a maximum uplink of 1Mbps and maximum downlink of 588Kbps.
Is the modem compatible with third party panels?
No. It's only compatible with GX and WX
What networks is the modem compatible with?
The modem is compatible with supported cellular networks only. It is not a Wi-Fi-enabled device and does not support connection to a wireless LAN.
Can I connect multiple controllers to the modem?
No. The modem does not support multiple connections. Only one controller can be connected to each modem. Do not connect a USB hub or multi-USB adaptor to the modem, as unexpected results may occur.
Can the cellular modem connect to any mobile network provider?
Yes. The modem is compatible with any valid cellular network provider. You may obtain a SIM from any suitable provider in your region, however there are some minimum requirements to ensure reliable operation. The selected provider should have good coverage across your region.
Recommended Data Amount
When purchasing a data plan, consider your installation and what the modem will be used for. If for alarm reporting only, we recommend a minimum of 500MB/month. If being used for alarm reporting and event uploads, we recommend a minimum of 1GB/month.
Conclusion
No matter where you are, having a robust system in place is critical to safeguarding those around you, and ensuring you're aware of what's happening on site. The cellular modem opens an array of new possibilities for mitigating risks and keeping sites secure.
*Note that SIM support is not limited to validated providers. These represent tested providers while there are others that may be suitable. Talk to an ICT representative to find out more about your options.