Combating COVID-19 with Enterprise Muster and Protege GX
With recent events changing the way that we all operate, ICT have been busy working with our customers to enhance their security and ensure that current and future regulations are upheld with Protege GX.
During this time, we're seeing an increasing need for sites to implement a way to track and monitor:
How many users are on site at any one time
How many users have been onsite during the day
How many users are in an area
And to show this information clearly within the user interface and report on the results.  
Using Enterprise Muster which is available as a licensed feature through the Protege GX web client, we have created a short tutorial video to show you how ICT is keeping essential business running safely.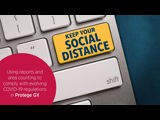 Enterprise Muster displays a live view of the users on site within specified areas. Utilizing the entry and exit readers associated with a door, the report creates a list of users that are present every 30 seconds. This comes in handy if you are tracking how many people are generally onsite during certain times throughout the day.  
Enterprise Muster can also be used in conjunction with specified User Report in Protege GX to display the total user count on site during the day. With this configuration, user access is logged and added to a total count for the day, and when the user leaves the building, the count doesn't decrease. This enables security managers to quickly view how many people have been on site up to that point and export the user report to view more detailed information. As close contact tracing is extremely important during a pandemic, this information can be vital to ensuring that the right people are notified if a positive case is confirmed on site. Also, if the number of people on site appears too high, further changes can be made to how the business operates to ensure staff safety.  
Balancing the need for detailed reporting and enforced social distancing is a new challenge for most businesses, however, with Protege GX, complying to changing legislation is simple. By calculating acceptable staff levels in each area, Protege GX can be used to restrict access to areas that have reached maximum capacity. Pair this with anti-passback and you can prevent users from passing their credentials back for another user to borrow by tracking the entry and exit area and generating an alarm if a user gains access to an area by tailgating or following another user. 
For detailed information on how you can use these features implement these features, please contact our support team.