Technical Support Specialist
Location: Auckland, New Zealand
Role Type: Permanent, Full-time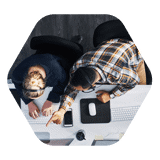 A unique opportunity has arisen for a Technical Support Specialist that can provide superior technical support and unrivalled assistance to our customers through management of inbound call queues and in-house ticketing systems.
This role would be ideal for a seasoned installer looking to take on an office-based challenge.
Our client base consists of predominantly security installation professionals that really know their stuff, and our cutting-edge software and products are highly versatile. This means there is significant scope for queries and diverse challenges that are resolved by our talented Support team on a daily basis.
We offer a culture that embraces diversity, and inclusiveness. Our diligent teams are committed and hard-working, but we like to ensure we have fun too - some of our many initiatives include an active Social Club with regular extra-curricular events, subsidized gym memberships, onsite yoga and massages once per month by professional physiotherapists. Our modern staff lunchroom has arcade games and even table tennis, a great location for our fun monthly staff social events!
The Successful Applicant:
You will have experience with security or access control products and be able to demonstrate security/access control industry knowledge that enables you to quickly add value to our customers, providing a high level of hands-on expertise as you will be required to replicate and test hardware issues.
Establishing rapport and building relationships with customers will be second nature, aided by your ability to quickly evaluate project specific technical issues and prioritize within a varied workload.
You will have exceptional communication and problem-solving skills, working closely with key customers to test and replicate issues to define and close support tickets. Keen to continually learn, you will be confident advancing customer knowledge with key product information where applicable.
Only applicants with the right to work permanently in New Zealand will be considered for this position. Successful applicants will be required to consent to police checks.
If you believe you fulfil the requirements above, please send your CV and covering letter describing the key attributes you would bring to this role to: hr@ict.co