Technical Support Representative
Location: Toronto, Canada
Role Type: Permanent, Full-time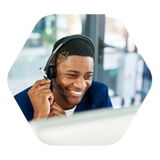 This is not your run-of-the-mill Technical Support job, as our client base consists of predominantly security installation professionals that really know their stuff, and our cutting-edge software and products are highly versatile. This means there is significant scope for queries and diverse challenges that are resolved daily by our talented Support team.
Company growth has resulted in this unique opportunity for a Technical Support professional that can provide superior support and unrivaled assistance to our customers through management of inbound call queues and in-house ticketing systems. Our ideal candidate will be bilingual, with an excellent command of both French and English to support our customers both over the phone and by email.
The work is varied, always challenging, and provides potential to gain a great deal of technical knowledge. Full training will be provided, therefore prior experience is not a prerequisite.
The successful candidate will be working closely with the Operations and Training Manager, receiving and resolving support related enquiries from our growing customer base. Having the right personality is just as important as technical ability - we work hard, but we like our workplace to be fun and friendly too.
This is a multi-faceted role that encompasses:
Providing solutions and building relationships with customers
Prioritizing workloads and providing project specific technical support
Assisting with testing and replication of issues to define and close support tickets
Ensuring customer knowledge base is advanced with key product information where applicable
Our ideal candidate will have:
Exceptional problem solving skills and attention to detail
Exceptional communication skills (written and verbal)
A passion for providing top notch customer service
High level of motivation with the ability to work unsupervised
Bilingual fluency in French and English 
Only applicants with the right to work permanently in Canada will be considered for this position. Successful applicants will be required to consent to police checks.
If you believe you fulfil the requirements above, please send your CV and covering letter describing the key attributes you would bring to this role to: hr@ict.co