Product Manager
Location: Auckland, New Zealand
Role Type: Permanent, Full-time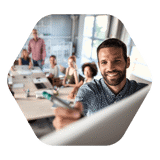 Are you an experienced Product Manager who is passionate about shaping the future of technology, and creating products that transform industries? Do you thrive on innovation, collaboration, and driving results?
We have an exciting opportunity for you to demonstrate your exceptional skillset and make a significant impact producing world-class access-control and security products at ICT.
Integrated Control Technology (ICT) is a leading provider of world-class integrated access control, alarm management and building automation technology. 
At the forefront of technological innovation, we are dynamic and forward thinking. Our commitment to excellence and drive to innovate has resulted in year-on-year growth.
We offer a culture that embraces diversity, and inclusiveness. Our diligent teams are committed and hard-working, but we like to ensure we have fun too - some of our many initiatives include an active Social Club with regular extra-curricular events, subsidised gym memberships, onsite yoga and massages once per month by professional physiotherapists. Our modern staff lunchroom has arcade games and even table tennis, a great location for our fun monthly staff social events!
The Successful Applicant:   
As Product Manager at ICT, you will be a key player aligning the strategy, vision and delivery of software products to the broader company strategy. 
You'll have the chance to work with a talented cross-functional team of engineers, designers, sales, marketing and support teams, as well as directly with customers to develop groundbreaking products that will shape the future of the business and wider industry.
With a strong commercial lens, the successful applicant will have proven experience as a Product Manager (or senior Product Owner with a minimum of 2 years' experience) and can demonstrate excellence in prior experience through delivery of commercially available products.
Our teams work across multiple technologies to deliver product outcomes to global markets; mobile, web (SAAS & on prem), and IOT.  If you are interested in a role that combines software, hardware and leads towards IOT, then this is a company to join.
We are looking for outstanding communication and leadership skills, combined with sharp analytical and problem-solving aptitude. A creative thinker with a vision, outstanding organizational and time management skills and exceptional attention to detail.
You will have a bachelor's degree in computer science, Engineering or relevant qualification, and be a forward thinking, tech savvy individual who is ready to take on exciting challenges. 
Key Responsibilities:
Work with the company and stakeholders to set & align strategy, vision and direction against company objectives & outcomes.
Owns the value opportunity & viability of a product. Runs product discovery & prioritises ideas, features, bugs into roadmap prioritisation to deliver and align to critical chunks of value and commercial benefits. Be part of multiple scrum teams as the Product Owner, providing epics for the teams to break down elaborate, estimate and deliver. Connecting the teams to customer, and business feedback.
Identify key customers and form early adopter customer groups as appropriate to ensure customers and market value. Work with customers to test ideas, wireframes, sprint demos, alpha and beta test cycles against the desired product outcomes. Work with marketing and customers to gather case studies and ensure product referencability.
Identify key business stakeholders ensuring that they are brought into the team for significant product changes or launches. e.g. sales, marketing and support stakeholders as a part of the product/ project delivery lifecycle.
Build appropriate business cases for ideas to inform business decision making on roadmap & delivery priorities.
Test product ideas to increase confidence as a part of the epic defining process. Ensure these are evidenced for teams.
Lead planning for product releases, ensuring appropriate release notes, and business readiness.
Provide an active role in mitigating impediments impacting successful team completion of Release/Sprint Goals or company success of a major release
Keep abreast with Product & Agile/Scrum best practices, and encourage inspection and adaption to better ways of delivering value within the teams, and company go to market.
Understanding and operation of Cybersecurity principles, Secure Development Lifecycle and security validation procedures.
Only applicants with the right to work permanently in New Zealand will be considered for this position. Successful applicants will be required to consent to police checks.
If you believe you fulfil the requirements above, please send your CV and covering letter describing the key attributes you would bring to this role to: hr@ict.co