PCB Technician
Location: Auckland, New Zealand
Role Type: Permanent, Full-time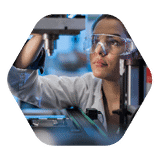 We are now looking for enthusiastic PCBA Technicians to join a small close-knit team responsible for the fast-paced manufacturing of our top-quality products. It is a pivotal and varied role for motivated and self-sufficient individuals. You will be required to perform PCB population and hand-soldering jobs, as well as preparing PTH components for hand-soldering and selective-soldering jobs.
Essential Duties and Responsibilities:
Assist with preparing PTH components for hand-soldering  and selective-soldering jobs following work instructions and procedures.
Assembly of PTH products
Perform visual inspections to comply with ICT's high demand for quality
Assist in selective soldering operation.
Perform product quality inspection using Automatic Optical Inspection (AOI) machine
Skills:
Professional in attitude, presentation with very strong work ethic.
Experience with hand soldering .
Knowledge of electronics components.
Able to follow instructions with excellent attention to detail.
Good oral and written communication skills.
Only applicants with the right to work permanently in New Zealand will be considered for this position. 
If you believe you fulfil the requirements above, please send your CV and covering letter describing the key attributes you would bring to this role to: hr@ict.co.
Applications close when all suitable roles are filled.