Customer Operations Manager
Location: Colorado, USA
Role Type: Permanent, Full-time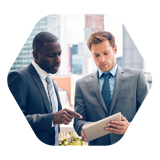 Due to exciting growth, we are looking for a Customer Operations Manager to be based out of our offices in Denver, Colorado.
This is a newly created senior position and will be responsible for leading the customer services and warehouse teams, while managing overall customer engagement with ICT throughout their ordering and delivery experience. Reporting to the ICT President (US) they will manage processes in line with ICT's global standards in collaboration with key teams in the Colorado office.
Responsibilities:
Lead and inspire the Customer Service and Warehouse functions, managing and mentoring both teams.
Onboarding customers to facilitate a soft landing and set the tone for their experience with ICT
Monitor, manage, and streamline the customer lifecycle – ensuring excellent level of customer service is maintained at all stages.
Oversee implementation of inventory control procedures working closely with the Warehouse Manager, analyze current practices within the Customer Service and Warehouse departments and initiate and process improvements.
Weekly dashboard reporting to President of ICT USA
Assist HR Manager/Talent Acquisition Partner with recruitment requirements, including job specifications and future growth planning of the Customer Service and Warehouse departments.
Oversee and attend ICT events
You'll be a great fit if you:
Have 3 years or more in a similar role with demonstrated leadership experience and ability
Possess prior business operations experience and a customer focused mindset
Have expertise in Salesforce, SAP S/4HANA, and Microsoft Office would be an advantage
Can bring a successful track record of previous people management
Are a confident decision maker with high attention to detail/analytical nature
Are a superb communicator with strong people skills
Have domain experience ideally in security/access control
Have the ability to work under pressure and to tight deadlines maintaining a high level of motivation
Can bring exceptional attention to detail with high level of accuracy
Hold a Bachelors' degree or higher qualification
Your core hours will be 8am to 4:30pm Monday to Friday.
Only applicants with a legal entitlement to work in USA will be considered for this position. Successful applicants will be required to consent to police checks.
If you believe you fulfil the requirements above, please send your CV and covering letter describing the key attributes you would bring to this role to: hr@ict.co