Account Executive
Location: Denver, USA
Role Type: Permanent, Full-time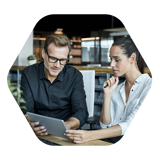 Due to growth, we are now building out a team of Account Executives based in our Denver offices (DTC area).
In a nutshell, in this role your key focus will be on developing and managing relationships with end customers in order to grow sales of ICT's products and services.
Responsibilities:
Identify, prospect, and qualify new end customers (in alignment with SDRs)
Using the MEDDIC sales approach, manage opportunities through the sales funnel
Enter, and update essential information in Salesforce and other related platforms
Achieve / exceed assigned sales quota
Build and maintain an impressive sales revenue pipeline 
Lead and maintain relationships with ICT's key end customers
Expertly demonstrate functionality of ICT product range to end customers / opportunities 
Work collaboratively and effectively 
Stay up to date on the latest access control market trends / developments
What you will bring:
Proven experience (at least 2 years') in a similar role with a focus on hunting / closing 
High levels of self-motivation, drive and enthusiasm with expectations to earn high commission level
Experience with prospecting and selling to large and enterprise businesses
Well versed business acumen expertise, experience managing competitive and strategic opportunities
Demonstrated consistent quota over-achievement
Proficiency with Microsoft office and knowledge of CRM Software (including but not limited to Salesforce, Salesloft or similar)
Excellent communication, negotiation and persuasion skills with the ability to build relationships
Physical security hardware and dealer sales experience is a plus
What to expect:
Competitive pay structure
On-the-job, paid training
Holidays off
Employee appreciation and recognition
Advancement opportunities
Don't miss this amazing opportunity to grow with us!
Only applicants with the right to work permanently in the United States will be considered for this position. Successful applicants will be required to consent to police/criminal record checks.
If you believe you fulfil the requirements above, please send your CV and covering letter describing the key attributes you would bring to this role to: hr@ict.co